We install the car on a viewing ditch. We install shoes under the rear wheels.
Remove the decorative cap and loosen the wheel nuts.
Raise the front of the car and place a secure support under the lower arm.
Remove the front wheel.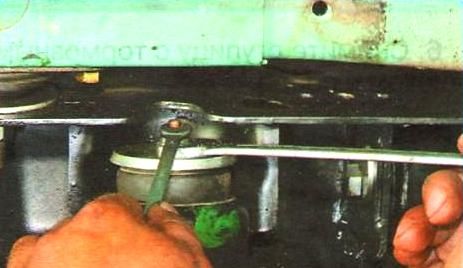 Holding the shock absorber rod with a 7 key, unscrew the shock absorber rod mounting nut.
Remove the washer and rubber pad from the stem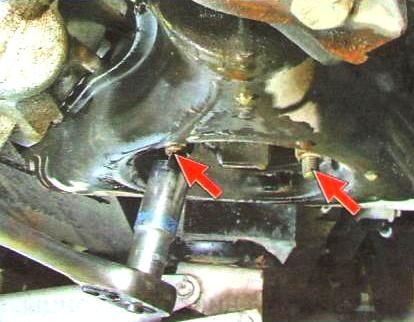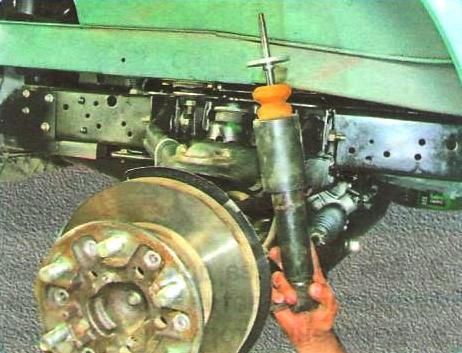 Unscrew the two nuts securing the lower shock absorber hinge
We take out the shock absorber down, taking it out through the hole in the lower arm.

Install the shock absorber in reverse order
Replacing the anti-roll bar
Tools are required: keys for 17, for 19, head for 14.
We install shoes under the rear wheels and brake the car with the parking brake.
Loosen the front wheel nuts.
We lift the front of the car, set it on reliable supports and remove the wheels.
Do not disassemble the stabilizer by hanging only one side of the vehicle.
A twisted barbell can cause injury when released.
Remove the engine mudguard.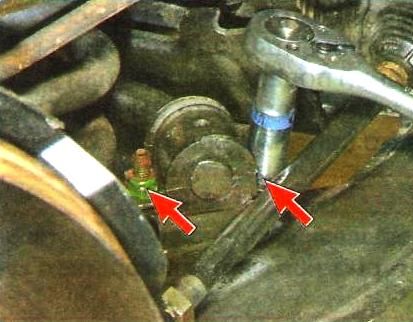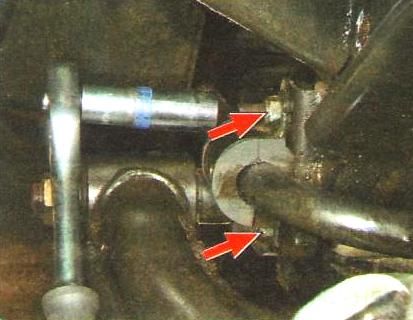 We unscrew the bolts securing the brackets of the stabilizer cushions to the lower arms and remove the brackets
We unscrew the nuts securing the stabilizer bar to the suspension cross member.
Remove the stabilizer bar.
Remove the rubber cushions from the bar.
Check the condition of the boom:
- in case of slight deformation of the rod (its ends are not in the same plane), it is necessary to straighten the rod, - in case of significant deformation or cracks, replace the rod.
Replace the rubber pads and install the stabilizer in the reverse order of removal.