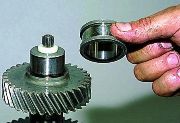 Disassembly of the transfer case was considered in the article Dismantling the transfer case VAZ-2123
Before inspecting, clean all transfer case parts thoroughly with a brush and scraper and then rinse. Blow out the parts with compressed air.
Flush gearbox parts thoroughly before inspecting. This will make it easier to identify wear and damage to parts.
Check if there are any damages on the teeth of the main gears and if the contact spots on the working surfaces of the teeth are correctly located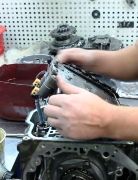 The hydraulic block or hydraulic distributor, receiving signals from the electronic control unit, switches channels in the control valve block and controls the clutch engagement pressure