We remove and disassemble the shock strut for repair or replacement of shock strut elements
The shock strut can be removed by placing the vehicle on a level surface
To remove the rack, you will need tools: wrenches for removing wheels, a jack, a support stand, wrenches for 8 and 17
We brake the car with a parking brake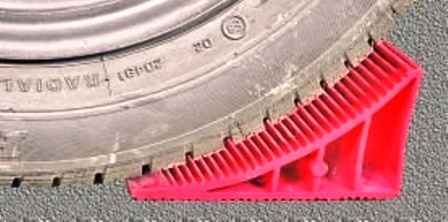 Installing wheel chocks under the rear wheels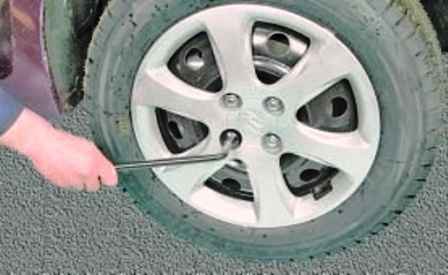 Loosen the wheel nuts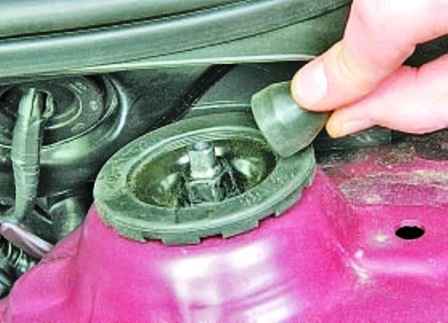 Remove the plug of the shock absorber rod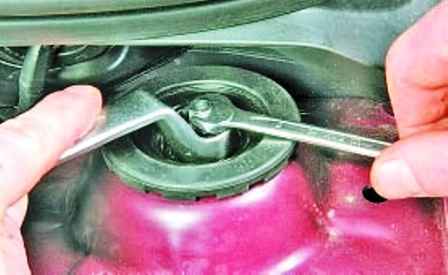 Loosen the nut of the upper mount of the rack, holding the stem from turning with the second key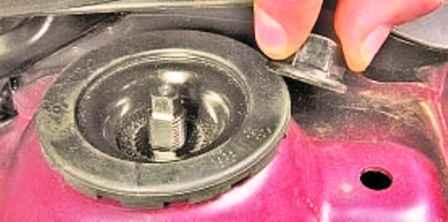 Finally unscrew the nut of the upper shock mount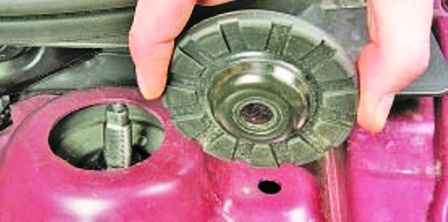 Remove the thrust washer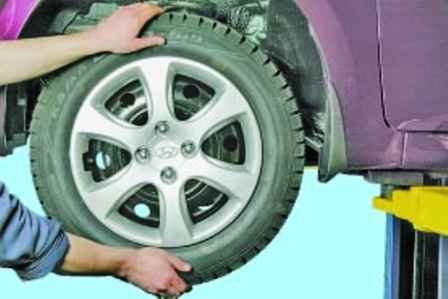 Raise the front of the car and remove the wheel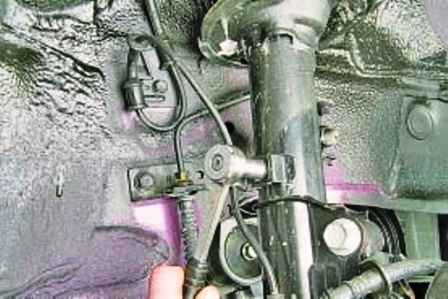 When removing the right shock strut, unscrew the bolt securing the front wheel speed sensor bracket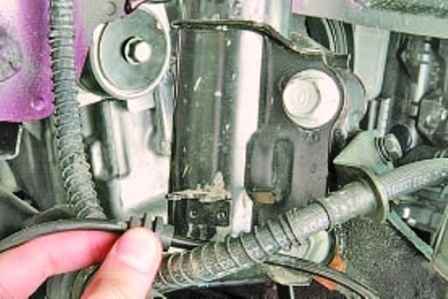 Remove the wire from the holder on the stand
On vehicles equipped with ABS, wheel speed sensors are located on both sides of the vehicle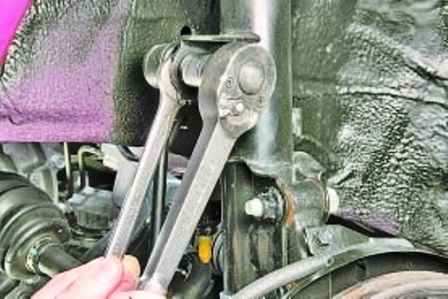 While holding your finger from scrolling, unscrew the nut securing the upper hinge of the stabilizer strut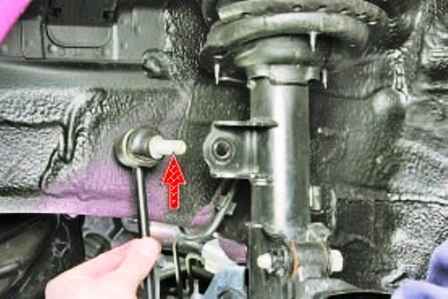 Disconnect the hinge pin from the shock strut bracket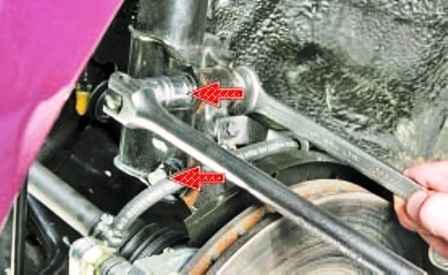 Unscrew the nut securing the shock strut to the steering knuckle and remove the bolt from the hole
We also unscrew the second nut and remove the bolt securing the shock strut to the steering knuckle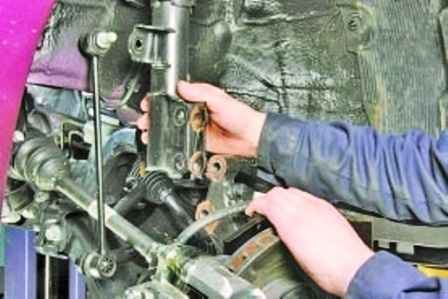 Holding the strut, move the steering knuckle away from the shock strut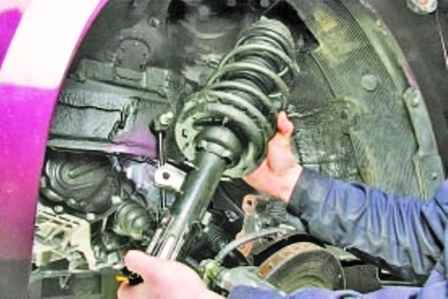 Remove the shock strut from the car
After repair or replacement, install the shock strut in reverse order
After assembly, we check the installation angles of the wheel alignment
Disassembling and assembling the shock strut
We need keys for 8, 17 and 21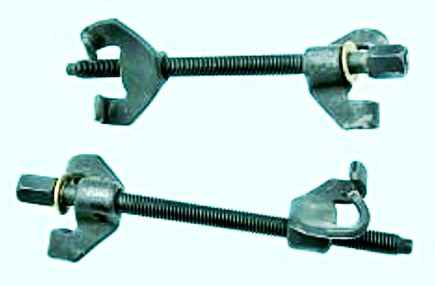 Spring ties will also be required
Remove the shock strut as described above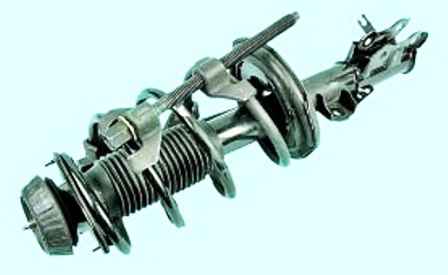 Installing the spring tensioner
Compress the spring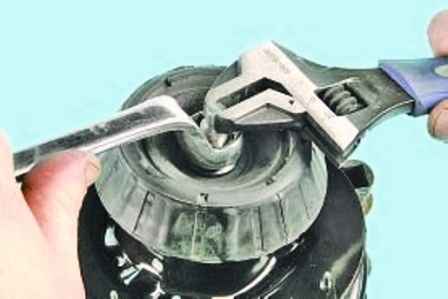 We unscrew the shock strut rod nut, holding the rod from turning with the second key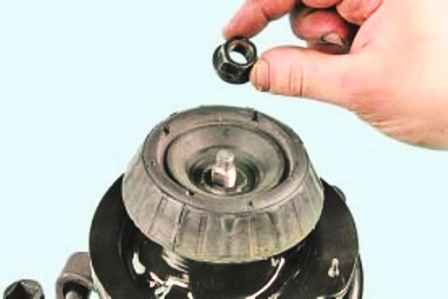 And remove the nut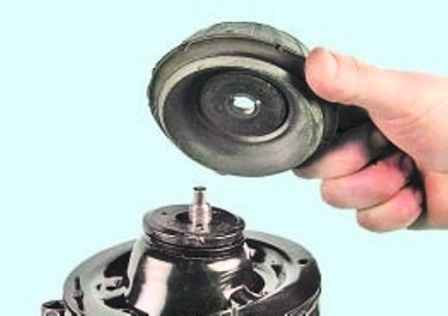 Remove the upper shock strut support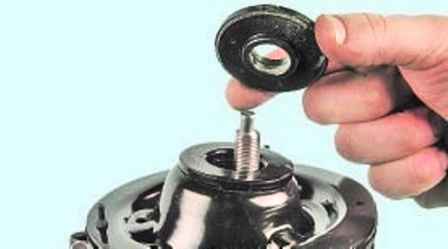 Remove the thrust bearing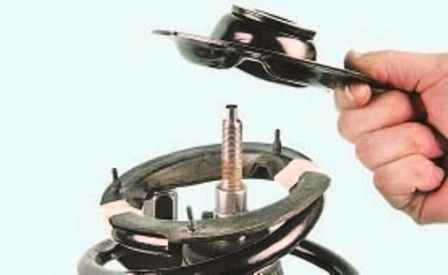 Remove the spring support cup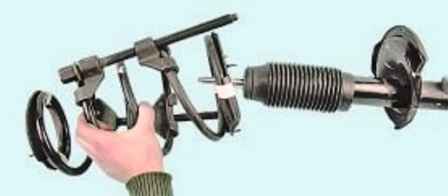 Remove the front suspension spring

Remove the protective cover of the shock strut rod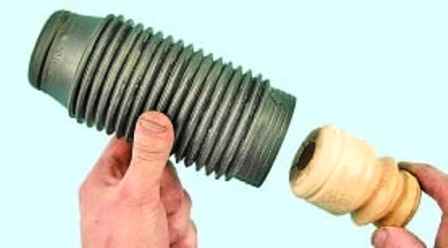 Retrieve the compression stroke buffer from the protective case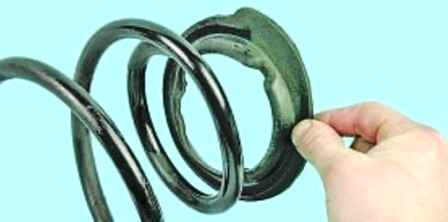 Remove the upper spring spacer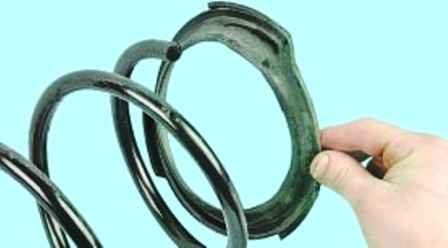 Remove the lower spring spacer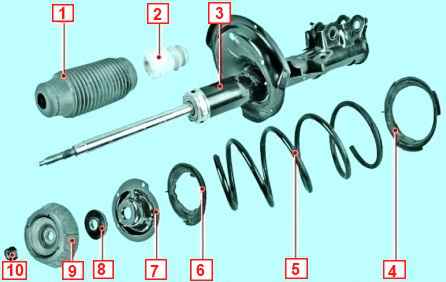 Inspecting the shock strut parts
Cracks, deformation and destruction on the rack body are not allowed.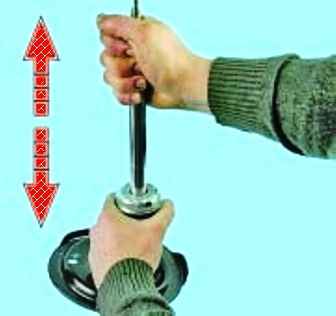 Set the shock strut to a vertical position and lower and raise the shock absorber rod as far as it will go several times
When moving the stem, make sure that it moves without dips, sticks or bumps.
If fluid leaks are found, replace the shock absorber
This check of the shock absorber is approximate, for a more accurate assessment of its condition, you need to contact a special service.
Shock absorbers must be replaced in pairs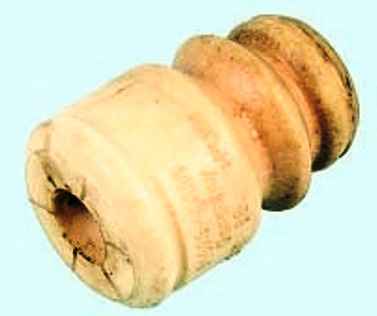 Replacing the compression stroke buffer if it is damaged
Check the support bearing, if it has play or sticks, then we replace it
If traces of collision of coils, cracks and deformation are found on the spring, then we replace it
Install all parts in reverse order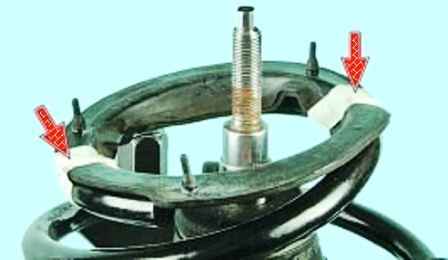 When assembling the shock strut, we fix the gaskets on the spring with adhesive tape or electrical tape for secure fixation at the installation site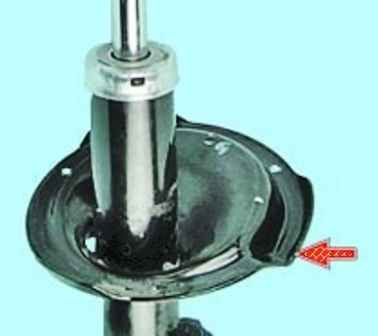 When installing the spring, you need to ensure that the end of the lower coil rests against the special protrusion of the lower spring cup
Install the rack as described above and check the wheel angles.