We check and adjust the valve clearances when repairing the cylinder head, as well as when a characteristic engine knock appears in the upper part of the cylinder head
Thermal valve clearances in the valve drive are adjustable on a cold engine (15-20 ° C)
Preparing the car for the task
Opening the hood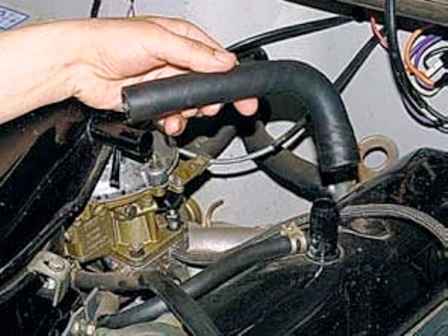 Remove the large crankcase ventilation hose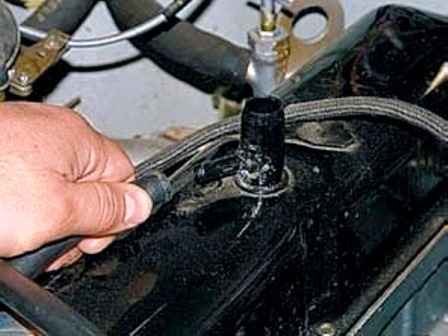 We loosen the clamp and remove the small hose of the crankcase ventilation system from the nozzle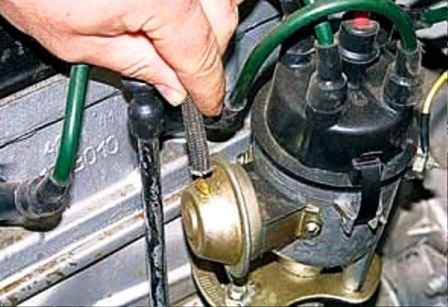 Remove the hose from the vacuum ignition timing valve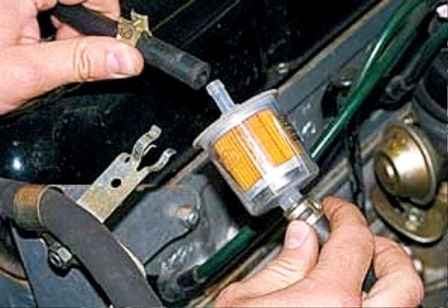 Loosening the clamp, remove the fuel hose from the nozzle of the fine fuel filter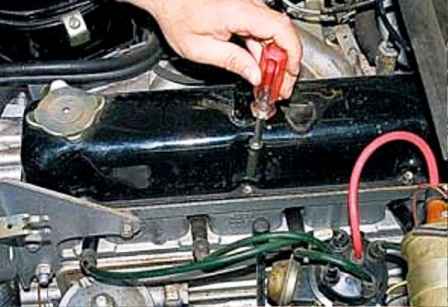 Using a 10 head, unscrew the six bolts securing the block head cover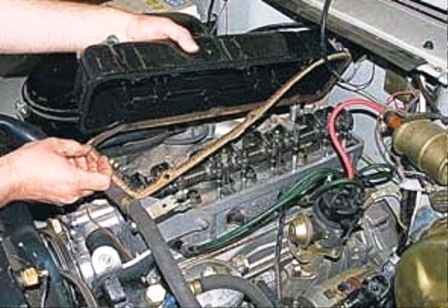 Remove the cover with the gasket
When installing the cover, check the gasket, and if necessary, replace it
During installation, we tighten the cover evenly, moving from the middle to the edges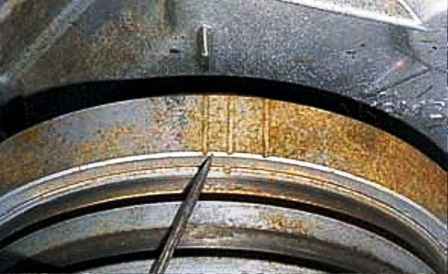 Using the start handle, turn the crankshaft by the ratchet bolt of the damper pulley clockwise until the third (clockwise) mark on the pulley aligns with the tide on the timing gear cover.
At the end of the compression stroke of the first cylinder (both valves of the first cylinder are closed - when the rocker arms are rocked, a gap will be felt between the rocker arms and the valves of this cylinder).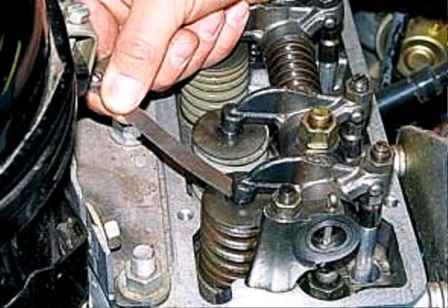 With a feeler gauge, check the gap between the valve and the rocker
The clearances for the exhaust valves of the first and fourth cylinders (valves No. 1 and No. 8) should be within 0.30-0.35 mm, and for the remaining valves within 0.35-0.40 mm.
With normal clearance, the probe should be able to move with little resistance
If the gap is not correct, adjust it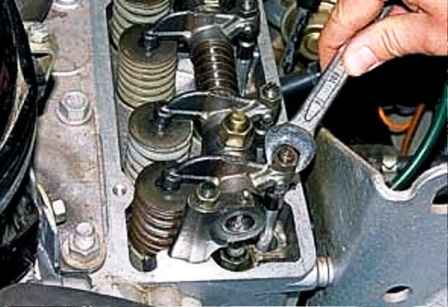 To do this, use a 14 key to loosen the locknut of the adjusting screw
Using a flat-blade screwdriver, unscrew the adjusting screw 1-2 turns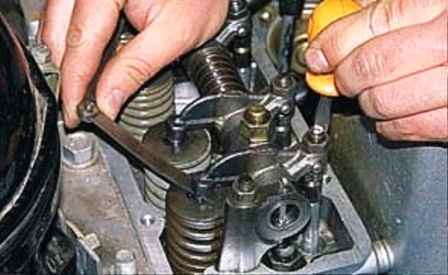 Insert a probe of the required thickness between the valve stem and the rocker.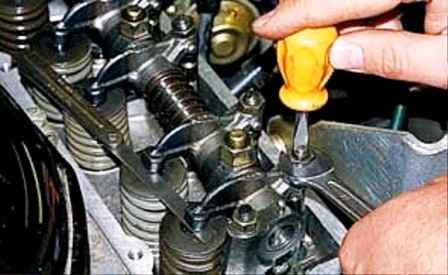 We turn the adjusting screw until the play between the rocker arm and the valve stem disappears.
We hold the adjusting screw from turning with a screwdriver, tighten the lock nut with a wrench. And check the gap again
If necessary, repeat the adjustment. We adjust the clearances of both valves of the first cylinder
After that, we adjust the valve clearances of the second and other cylinders in the order 1-2-4-3, turning the crankshaft with the starting handle 180 ° each time.