The crankshaft seals are replaced when oil leaks through the cuffs
We install the car on a viewing ditch or lift and remove it:
- oil pan;
- radiator of the cooling system;
- drive belts of aggregates;
- a viscous coupling with an impeller.
For convenience, you can remove the front panel
Engage fourth gear and parking brake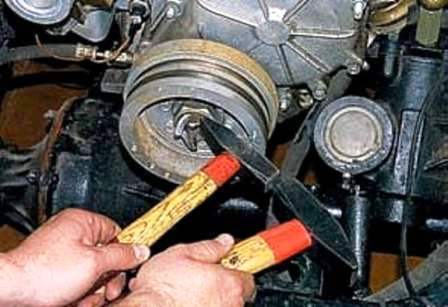 Unscrew the ratchet bolt with a 46 head or blows of a hammer through the hammer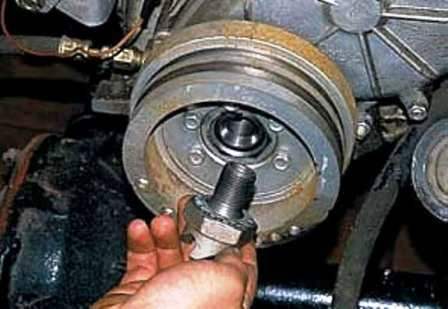 A lock washer is installed under the ratchet bolt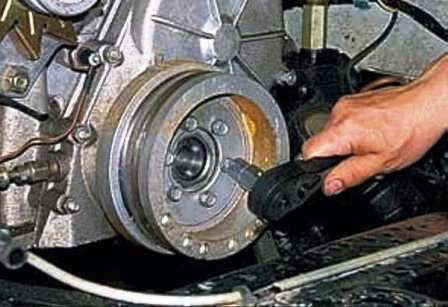 With a 12 head, unscrew the six bolts securing the pulley to the hub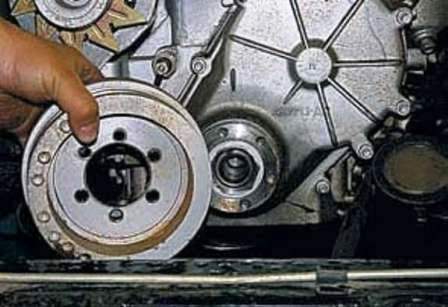 Remove the pulley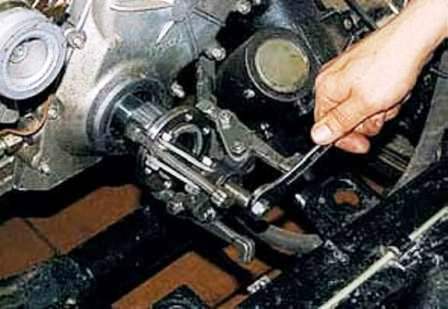 Using a puller, we press the pulley hub off the crankshaft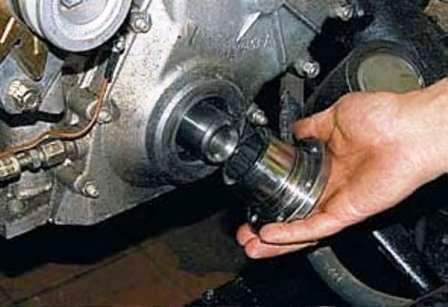 Remove the hub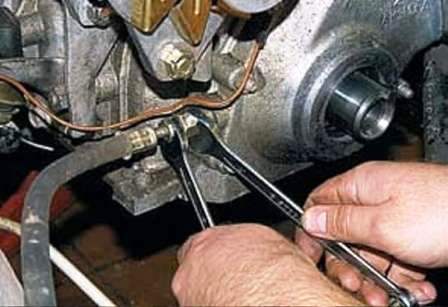 Using a 14 wrench, unscrew the oil cooler hose fitting, holding the adapter with a 17 wrench
Through the hose we drain the remaining oil from the oil cooler
With a 13 key, unscrew the six nuts securing the front cover to the cylinder block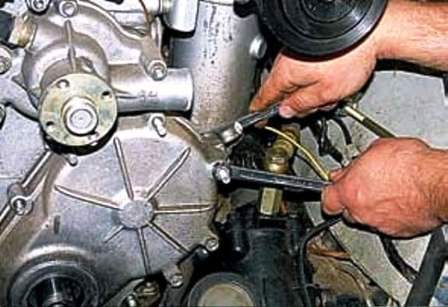 Using a 12 and 13 wrench, unscrew the remaining three nuts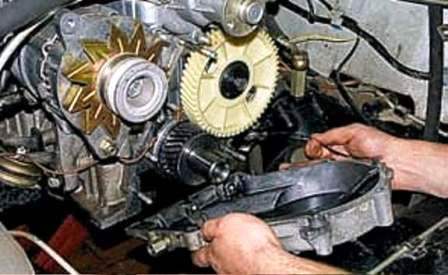 Remove the cover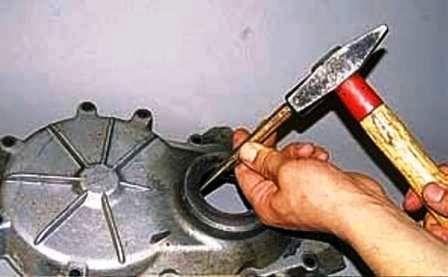 Knock out the gland with a hammer through the beard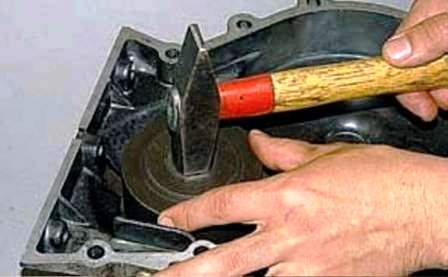 Using a mandrel or a piece of pipe of a suitable size, we press in a new cuff
Install the cover in reverse order
Hubsat the crankshaft pulley we press with a ratchet bolt
After assembly, we check the tightness of the stuffing box and cover
Replacing the crankshaft rear oil seal
We prepare the car for work, install it on a lift or a viewing ditch
Remove the transfer case and gearbox
Remove the clutch discs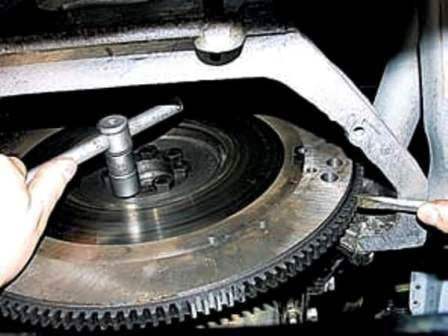 With a 17 head, unscrew the seven flywheel mounting bolts.
We keep the flywheel from turning with a mounting spatula or a large screwdriver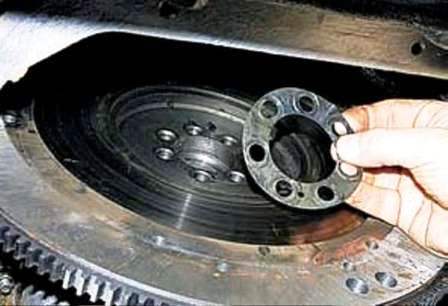 Remove the special washer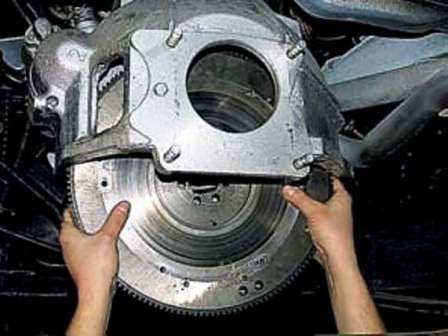 Removing the flywheel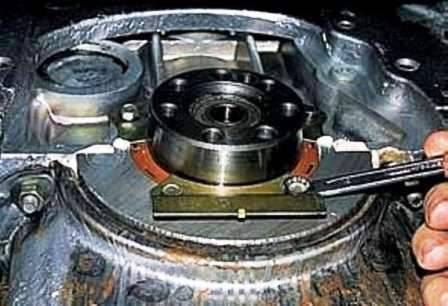 With a 10 key, unscrew the two bolts securing the lower and three bolts securing the upper cuff plates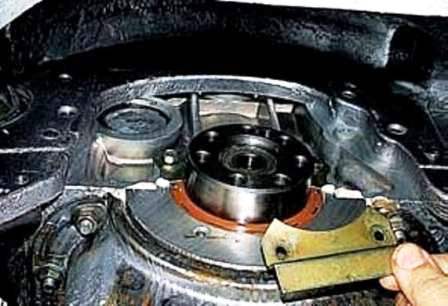 Remove the bottom plate of the stuffing box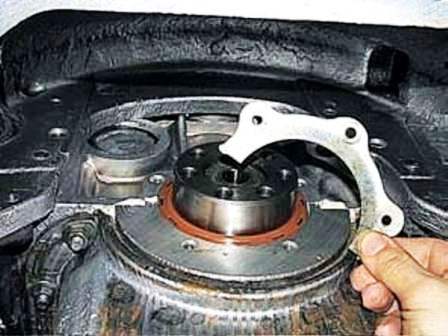 Remove the top plate of the stuffing box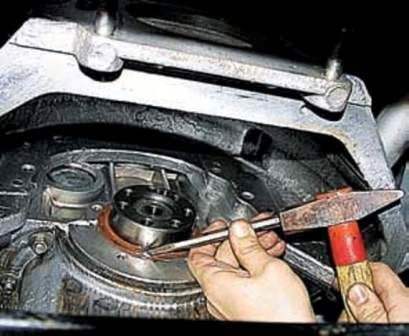 With a sharp chisel, carefully, so as not to damage the seat and the neck of the crankshaft, we cut the cuff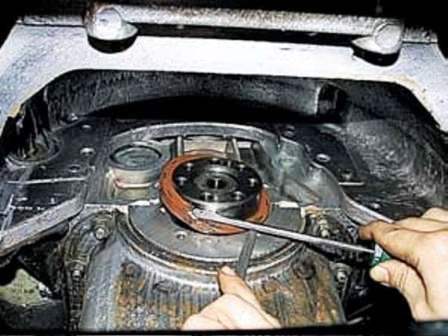 Introduce the blade of a flat screwdriver into the resulting gap and, placing an emphasis under it, press out the cuff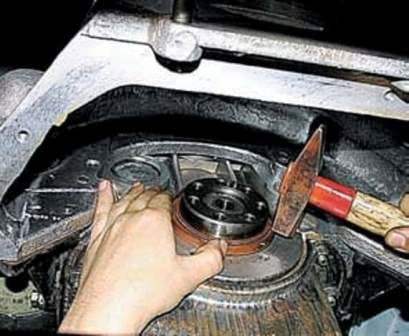 With light blows of a hammer, we press in a new oil seal, lubricating its outer surface with engine oil and using the old cuff as a mandrel.
Install parts in reverse order