Remove the gearbox for replacement or repair
Faults that require gearbox repair:
- oil leakage through seals and gaskets;
- difficult gear shifting;
- increased noise;
- spontaneous disengagement or poor engagement of gears.
We also remove the gearbox to replace the clutch, flywheel and crankshaft rear oil seal.
The work of removing and installing the gearbox is very laborious, so be sure to first make sure that its malfunctions are not caused by other reasons (insufficient oil level, defects in the clutch release drive, loosening of the gearbox, etc.).
The gearbox is quite heavy and has an awkward shape to hold, so we recommend removing it with an assistant.
Install the car on a lift or viewing hole
Disconnect the negative battery terminal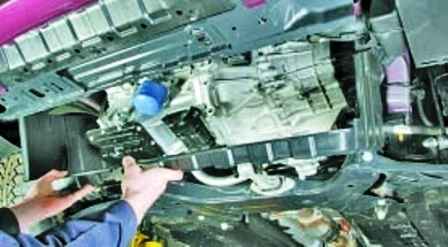 Removing the engine mudguard, described in the article - Removing and installing the Hyundai engine mudguard Solaris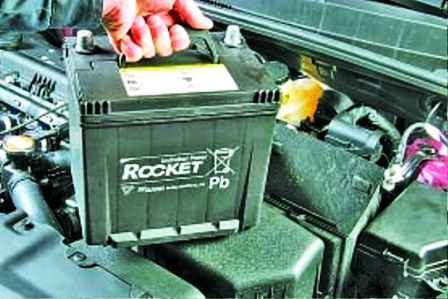 Remove the battery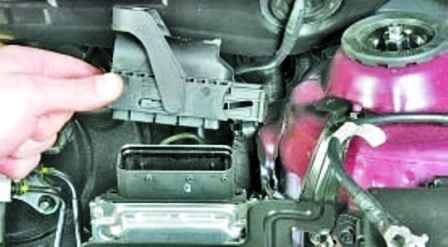 Disconnect the wiring harness from the computer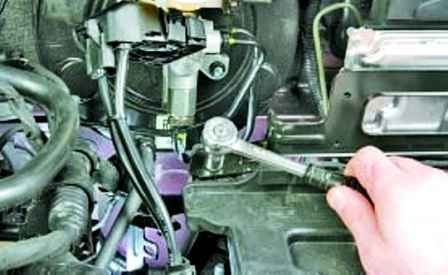 We unscrew the bolts securing the electronic unit bracket to the battery shelf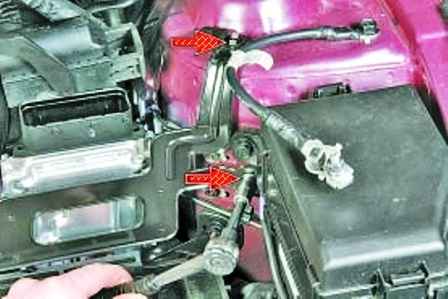 We unscrew the bolts of fastening to the body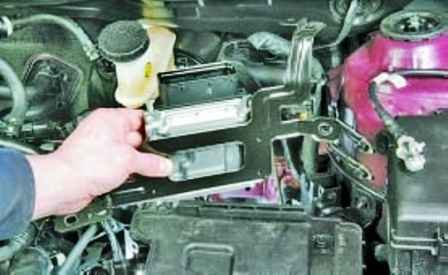 Remove the engine control unit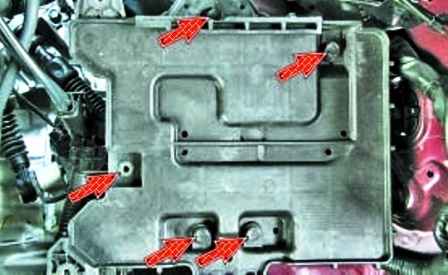 We unscrew the five bolts securing the battery shelf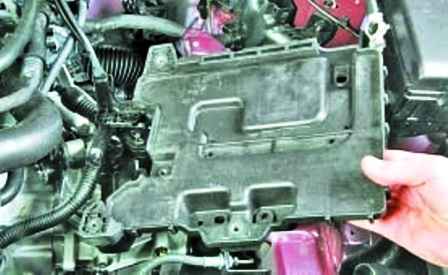 Removing the shelf
Remove the air filter housing with the air supply sleeve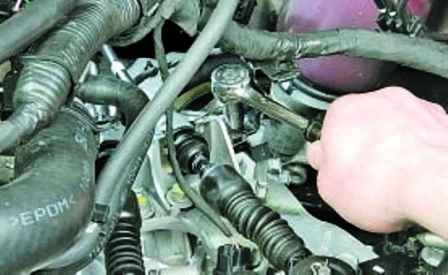 We unscrew the bolt of the wiring harness bracket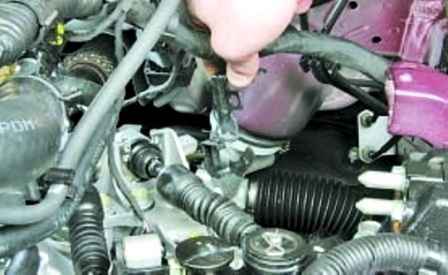 Remove the bracket with wires to the side y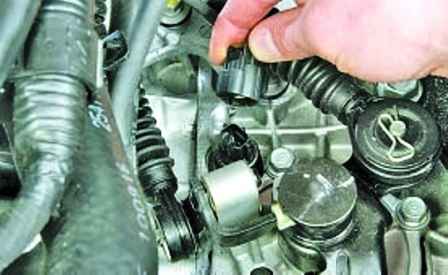 We press the retainer of the block of wires of the reverse light switch and disconnect the block from the switch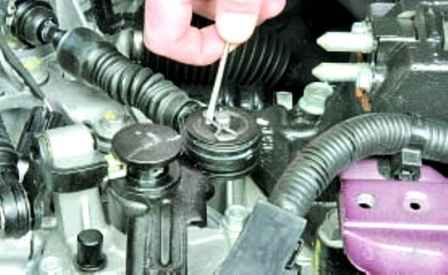 We pry off the cotter pin of the cable end with a screwdriver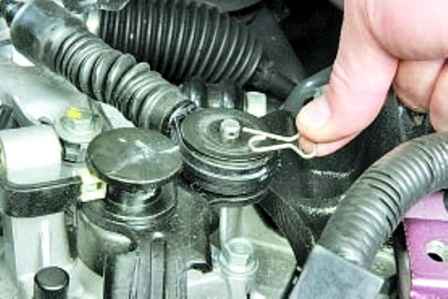 We take it out of the hole of the axle of the gear lever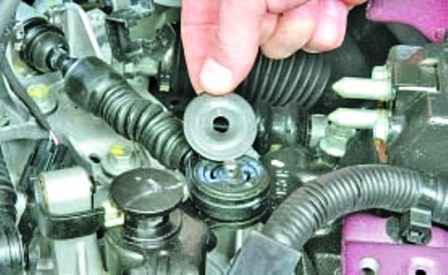 Remove the washer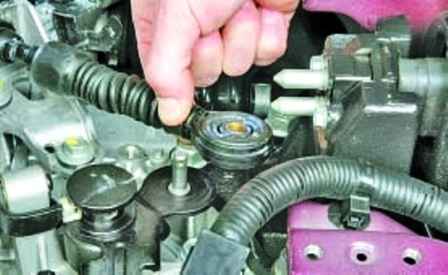 Remove the tip of the cable from the axis of the gear lever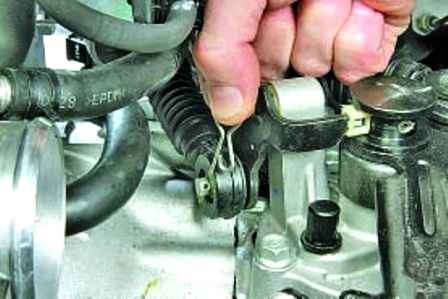 Remove the cotter pin of the cable end from the hole in the gear selector lever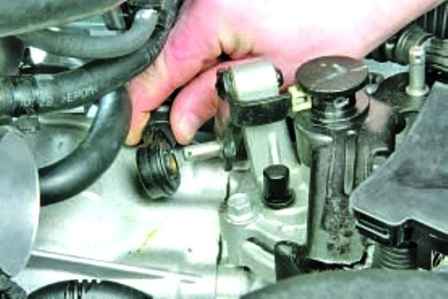 Remove the tip of the cable from the axis of the gear lever
Remove the tips of the cable sheaths from the sockets of the bracket on the gearbox and take the cables to the side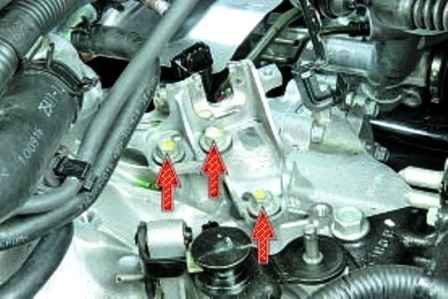 We unscrew the three bolts of the gearbox control cable bracket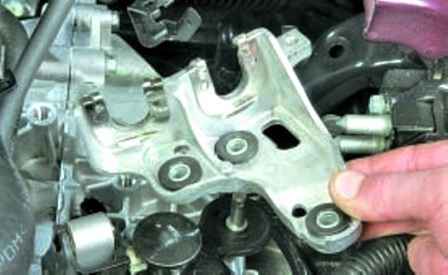 Remove the bracket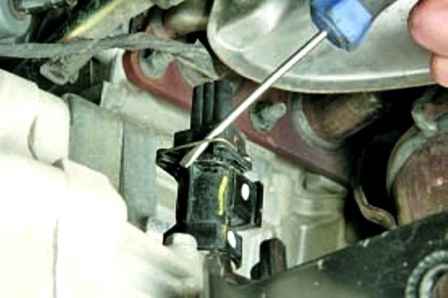 Pry off with a screwdriver and remove the latch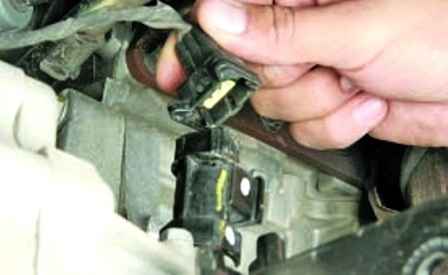 Disconnect the wiring harness from the speed sensor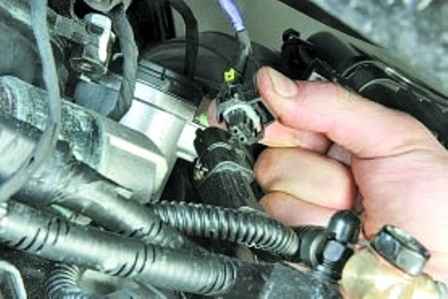 We press the latch and disconnect the wire block from the crankshaft position sensor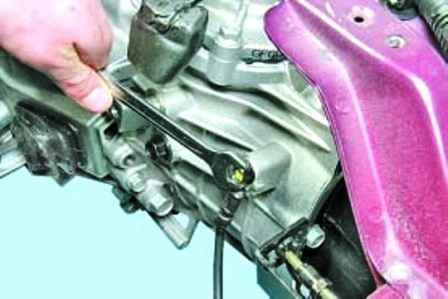 We unscrew the bolt of the ground wire tip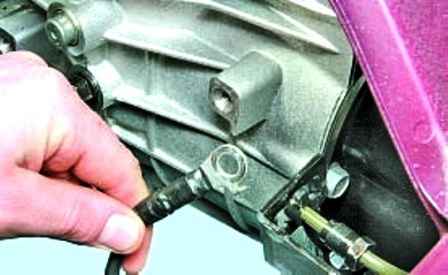 Leave the wire aside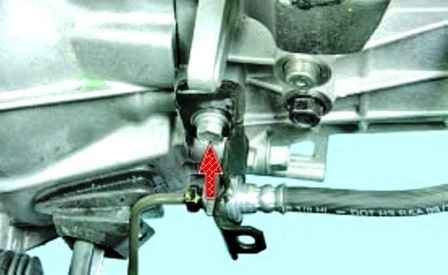 We unscrew the bolt that secures the clutch pipeline bracket to the gearbox housing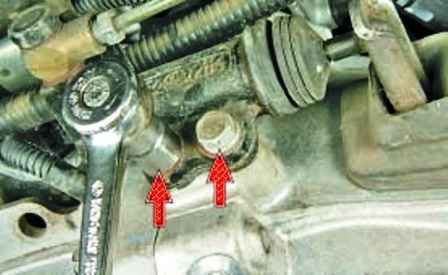 We unscrew the two bolts of the clutch slave cylinder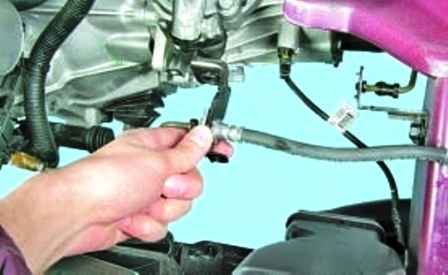 We take the working cylinder with the bracket and pipeline to the side and fix it with wire on the body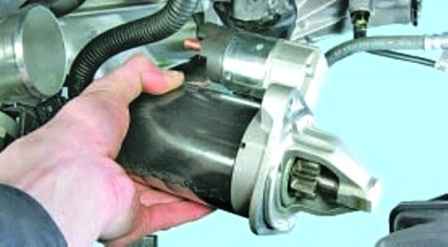 Remove the starter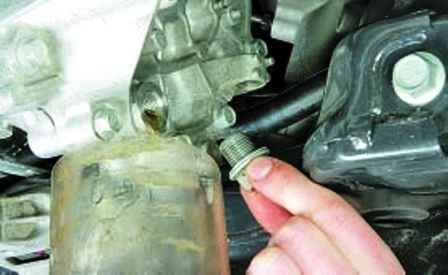 Drain the oil from the gearbox, described in the article - Design feature of the Hyundai Solaris gearbox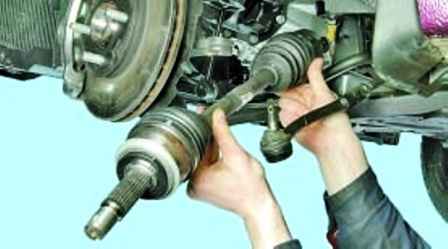 Remove the front wheel drives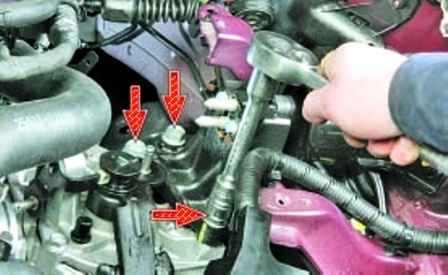 We unscrew the three bolts securing the gearbox to the power unit suspension support bracket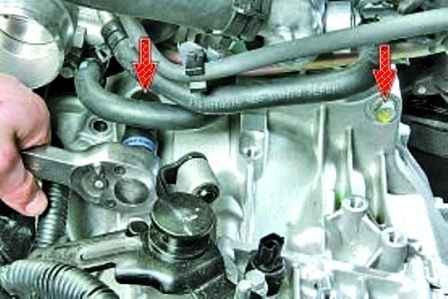 We unscrew the two bolts of the upper gearbox mount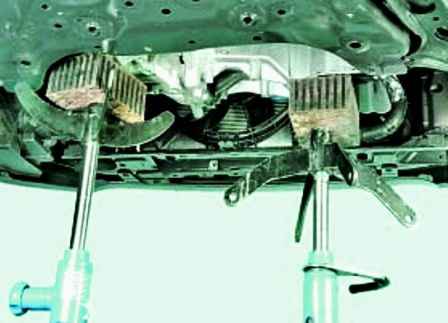 We install reliable stops for the gearbox and engine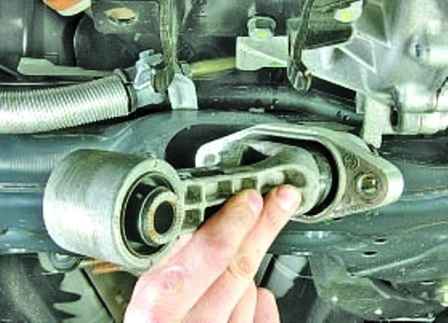 Removing the rear power plant suspension mount, described in the article - How to replace Hyundai Solaris power plant mounts since 2011
We unscrew the five bolts of the lower gearbox mounting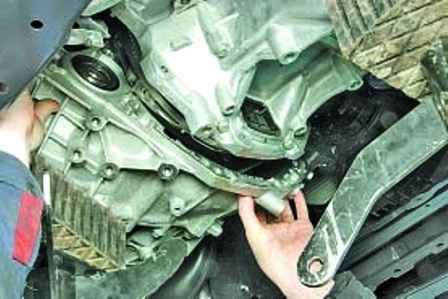 Supporting the gearbox, remove the support from under it
We shift the gearbox back until the input shaft leaves the hub of the clutch disc
Carefully remove the gearbox from the car
Install the gearbox in reverse order