Mazda 6 car body type four-door sedan, five-door hatchback and five-door station wagon, load-bearing structure, all-metal
The body frame includes the base, sidewalls, roof and parts interconnected by electric welding (spot, seam and arc).
The body is a non-separable structure with sufficient rigidity, and carries all the units of the car, attachments of the body and interior details.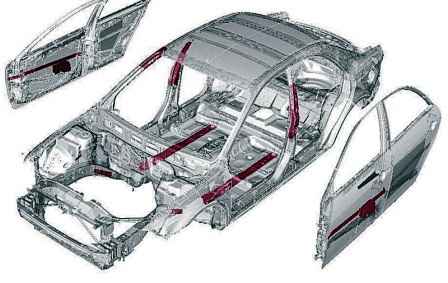 Attachments include side doors, hood, trunk lid or tailgate (wagon or hatchback), front fenders, front and rear bumpers
Side doors, hood, trunk lid or tailgate are hinged to the body, front fenders are bolted.
All side doors are equipped with power windows.
The glass of the side doors and sidewalls (on station wagons), as well as the rear window (tailgate glass) are bent, polished, hardened
Three-layer glass
Wind and rear windows (tailgate glass), sidewall windows (on station wagons) are glued into the corresponding body openings.
Both bumpers are plastic.
The front and rear bumpers are painted in body color and are attached to the body with bolts, screws and plastic clips.
The front seats are separate, with adjustments in the longitudinal direction, for the angle of the backrest, for the height and angle of the pillow, as well as for the position of the lumbar support roller (the number of seat adjustments depends on the configuration).
In the Luxury package, a power driver's seat is installed.
Seat headrests are easily removable, height-adjustable, mounted on the backs of all seats.
The rear seat includes a cushion and two backrests. If necessary, the rear seat backs fold down in parts to increase the capacity of the luggage compartment.
In order to improve the safety of passengers and the driver, the car is equipped with a passive safety system (SRS).
The passive safety system of the Mazda 6 car combines frontal and, depending on the configuration, side airbags for the driver and passenger in the front seat, window airbags (curtains) and front seat belt pretensioners.
All vehicle configurations are equipped with inertial diagonal seat belts for the rear seats.
The interior of the car is equipped with an energy-absorbing instrument panel, a cigarette lighter, ashtrays, sun visors, a heating, ventilation and air conditioning system or, depending on the configuration, climate control, a rear-view mirror, handrails.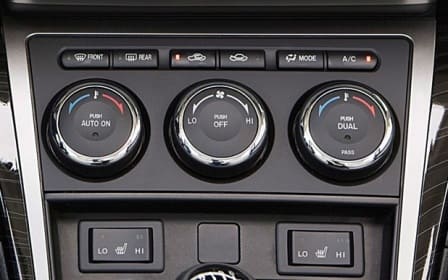 The volume, temperature, direction and intensity of air flows are regulated by switches installed in the control unit of the heating, ventilation and air conditioning system
Exhaust ventilation of the body is carried out through deflectors with valves that are installed under the rear bumper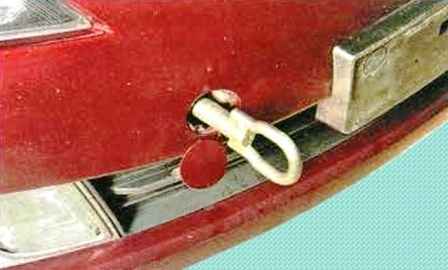 The car is equipped with a front detachable towing eye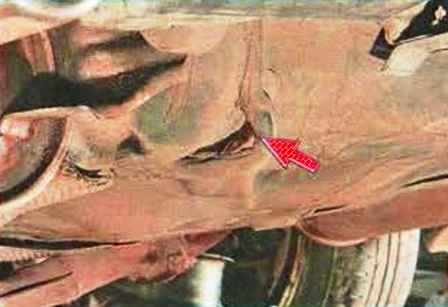 In order to tow another vehicle, a non-removable eyelet specially designed for this purpose is installed under the bottom of the body (in its rear part).
Possible body malfunctions and solutions
Dark spots all over the body
- perhaps hot water was used for washing (above 80º)
Remove minor damage by polishing, in case of significant damage, you need to repaint the body
- use of leaded gasoline or other corrosive substances to remove the wax coating
Repaint the body
Pink spots on light-colored surfaces
- coolant supply
Finish damaged areas
Light spots on dark-colored surfaces
- exposure to moisture during long-term storage of the car under a cover m
Finish damaged areas, if necessary, repaint the body
The enamel has lost its original shine
- use of dry cleaning material
Finish damaged areas
- prolonged exposure to the sun
Finish damaged areas, if necessary, repaint the body
- application for washing the body of substances that corrode the coating
Finish damaged areas, if necessary, repaint the body
Water gets into the cabin
- a large gap around the perimeter of the door with a body
Adjust the position of the door and the latch of the lock
- the metal frame of the door opening seal is crumpled
Replace seal
Door won't lock
- jamming of moving parts of the lock due to dust ingress
Remove the lock, wash with kerosene and lubricate with TsIATIM-201 lubricant or similar
The door cannot be unlocked with the inside handle
- incomplete stroke of the internal drive lever due to low thrust
Adjust the position of the inner lock handle
The bonnet lock is not unlocked with the interior handle
- lock cable break
Replace cable
The hood is not lockable
- breakage or weakening of the lock spring
Replace the spring
Sliding glass is not fixed in position
- breakage of the spring brake of the power window mechanism
Replace the power window