The removal of the camshaft was discussed in the article - "How to disassemble the ZMZ-402 engine »
Some motorists pay little attention to the condition of the camshaft when repairing the engine.
The focus is on the CPG and the crankshaft.
Which adversely affects the further operation of the engine.
It is necessary to pay special attention to the camshaft, its bearings.
In case of severe wear of the camshaft bushings, new bushings must be pressed in.
Install a new camshaft.
Inspection and troubleshooting of the camshaft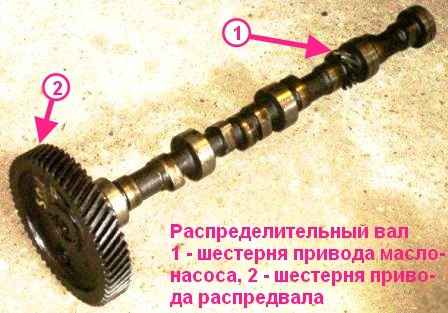 After removing, wash all parts with gasoline, wipe and dry.
Inspect the camshaft.
If there are scuffs, deep scratches, shells, chips, cracks on the necks, cams and gear of the oil pump drive, replace the camshaft.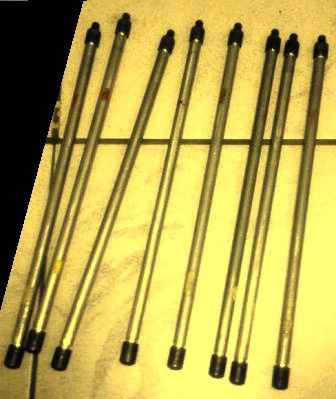 Inspect the push rods. Replace bent rods.
If there are signs of wear, scuffing, shells on the tips of the rods, also replace the rods.
It should be noted that the length of the engine rod mod. 402 is 283 mm, and the engine mod. 4021 - 287 mm.
Measure the diameters of the camshaft journals, the nominal diameters of the journals are indicated in the table.
Inspect the pushers.
If there are signs of wear, pitting, scuffing, etc. on the working surfaces, replace the pushers.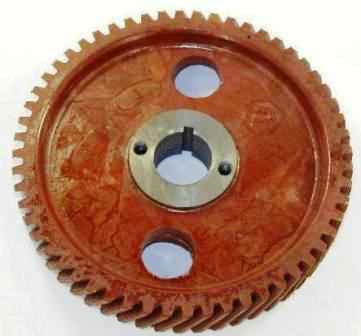 If the camshaft gear is damaged or cracked, it must be replaced.
Measure the camshaft end play.
To do this, assemble the shaft with a gear wheel, put a spacer ring and a thrust flange on the front end of the camshaft, then press the gear wheel and tighten the gear wheel mounting bolt with a washer.
Tighten the bolt to 55–60 Nm (5.5–6.0 kgf m).
Measure the gap between the thrust flange of the camshaft and the hub of the gear wheel with a feeler gauge, it should be within 0.1–0.2 mm.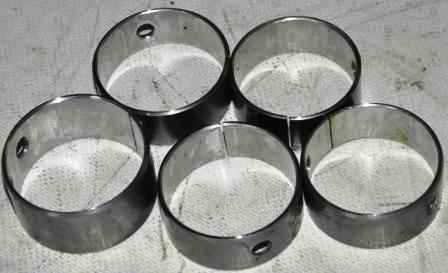 Install the camshaft in the reverse order of removal.
Before installing, lubricate the camshaft journals and cams, tappets and pushrods with engine oil.
After installation, adjust the clearances in the valve drive.
Nominal dimensions and fit of mating parts of the camshaft of the engine mod. 402
Part Name

Nominal

diameter, mm

Name mated details

Nominal

diameter, mm

The first neck

camshaft

52,0 -0,02

Cylinder block

52,0 +0,075

52,0 +0,05

The second neck

camshaft

51,0 -0,02

Cylinder block

51,0 +0,075

51,0 +0,05

The third neck

camshaft

50,0 -0,02

Cylinder block

50,0 +0,05

The fourth neck

camshaft

49,0 -0,02

Cylinder block

49,0 +0,075

49,0 +0,05

Fifth neck

camshaft

48,0 -0,02

Cylinder block

48,0 +0,075

48,0 +0,05

Gear wheel

28,0 +0,023

Distribution shaft

28,0 +0,023

28,0 +0,002

Valve tappet

25,0 -0,008

25,0 -0,022

Cylinder block

25,0 +0,023

Tip of the pusher rod

8,75 +0,03

8,75 -0,02

Pusher rod

8,75 +0,045

8,75 -0,035

Part Name

Gap, mm

Tension, mm

min

max

min

max

The first camshaft neck

0,05

0,095

—

—

Second camshaft neck

0,05

0,095

—

—

Third camshaft neck

0,05

0,095

—

—

Fourth camshaft neck

0,05

0,095

—

—

Fifth camshaft neck

0,05

0,095

—

—

Gear wheel

—

0,021

—

0,023

Valve tappet

0,015

0,038

—

—

Tip of the pusher rod

—

—

0,005

0,065