We remove the main brake cylinder for repair, as well as to replace the vacuum booster
As practice shows, repairing the brake master cylinder does not give the desired result, so it is better to replace it.
Defects of the main brake cylinder, in which it should be repaired or replaced:
- contamination of the main cylinder or heavy wear of its mirror;
- wear or damage to the master cylinder piston cuff;
- cuff swelling;
- compensation holes are clogged (the car brakes spontaneously)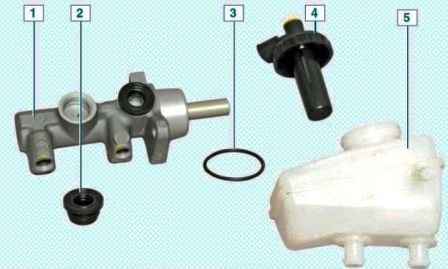 Having lifted the latch, disconnect the wire block from the brake fluid level sensor.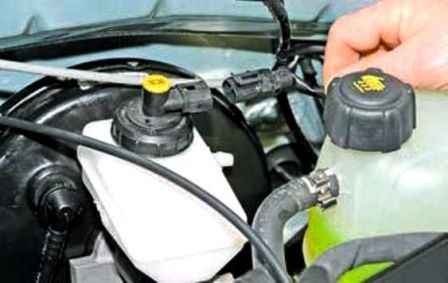 Having unscrewed the tank cap, remove it together with the liquid level sensor.
We select the liquid from the tank with a rubber pear and wrap the lid.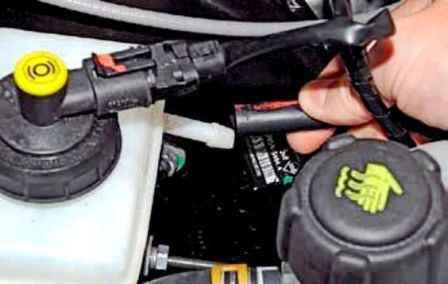 Disconnect the clutch master cylinder hose from the reservoir fitting.
We fix the hose so that it is in the upper position.
Brake fluid will remain in the hose and, after installation, it will not be necessary to bleed the hydraulic clutch release.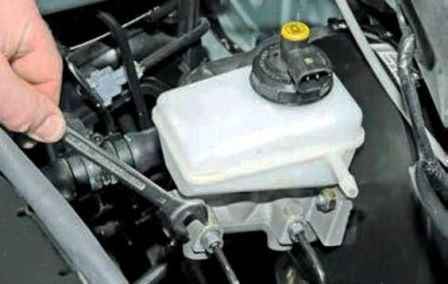 Using an 11 open-end wrench or a special wrench for fittings of brake pipes, we unscrew the fittings of two brake pipes.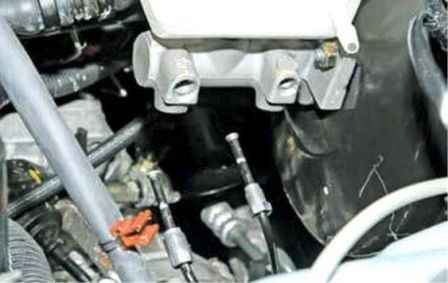 Remove the tips of the tubes from the holes of the master brake cylinder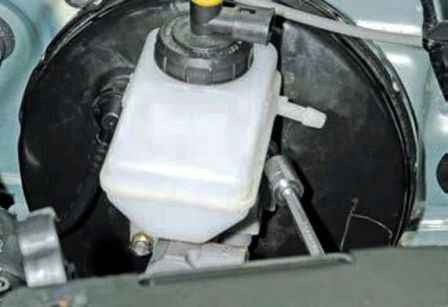 With a 13 head, unscrew the two nuts securing the cylinder to the vacuum brake booster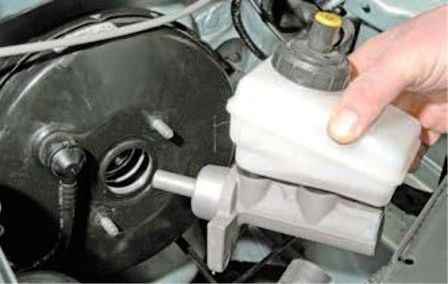 Remove the master brake cylinder assembly with the hydraulic reservoir
The connection between the master brake cylinder and the vacuum brake booster is sealed with a rubber ring located in the groove of the cylinder flange.
Remove the ring from the groove of the flange.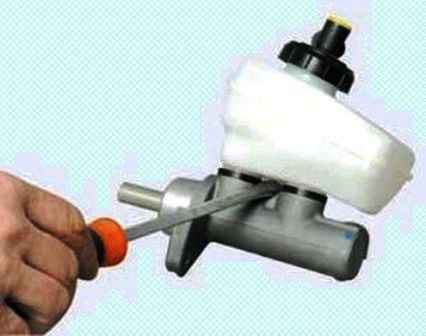 If it is necessary to remove the hydraulic reservoir, insert a screwdriver between the reservoir and cylinder bodies.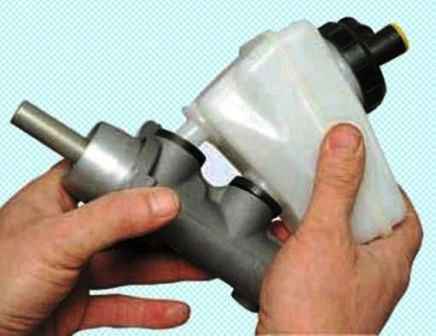 Overcoming the resistance of the sealing rubber bushings, we remove the reservoir fittings from the cylinder holes and remove the reservoir.
We take out the sealing bushings of the reservoir fittings from the holes of the main brake cylinder.
Check the condition of the rubber sealing bushings and the ring.
If they are damaged (tears, cracks) or have lost their elasticity, we replace them with new ones.
We assemble the main brake cylinder with a reservoir in reverse order.
We pump hydraulic brakes and clutches (article - Replacing and pumping hydraulic brakes and clutches Renault Duster).