We adjust the carburetor dampers after repair work related to the removal of damper actuators
Choke actuator adjustment
Remove the air filter cover as described in the article "removing the filters"
The air damper must be in a vertical position when the drive rod handle is recessed
When pulling the handle all the way, the air damper must be fully closed
If this is not the case, on the instrument panel we sink the air damper control knob all the way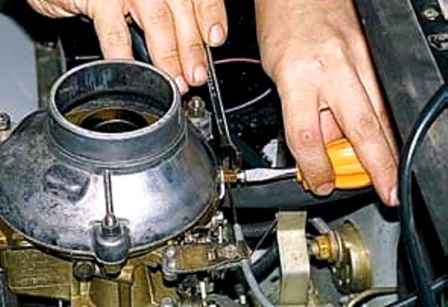 We loosen the locking screw of the air damper drive rod with a screwdriver, holding the clutch with a key by 8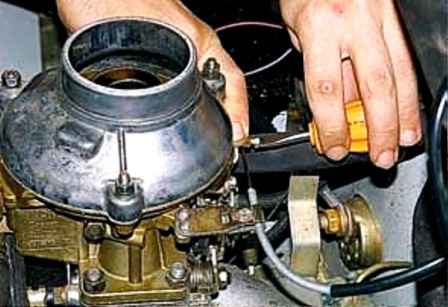 We press the air damper drive lever, fully open the air damper and in this position we tighten the locking screw of the drive cable with a screwdriver.
Pull the control handle to close the choke.
After that, we sink it again until it stops. If the damper is fully opened, finally tighten the locking screw.
If necessary, repeat the adjustment.
Throttle actuator adjustment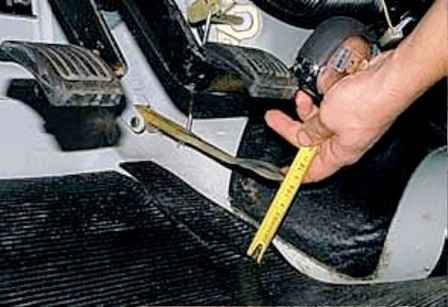 Checking the adjustment of the position of the gas pedal, for this we measure the distance from the inclined surface of the floor to the released pedal
The pedal should be at a distance of 80-90 mm
To adjust the position of the pedal, remove the air filter cover, as indicated in the article "removing the filters"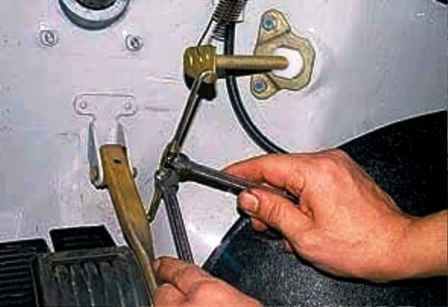 Using an 8 wrench, we loosen the locknut, holding the adjusting sleeve with a 10 wrench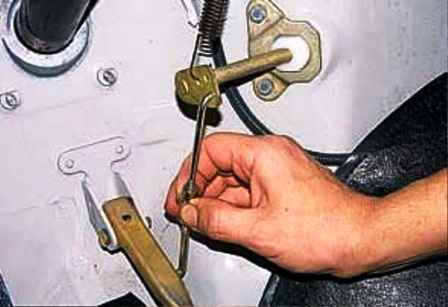 Turn the adjusting sleeve, and achieve the required distance to the floor and tighten the locknut
The assistant presses the gas pedal all the way to the floor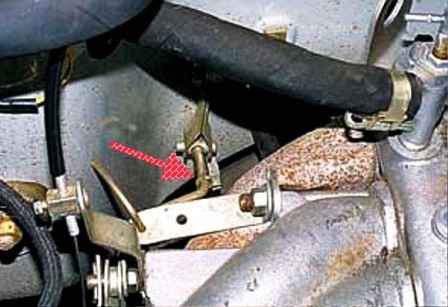 At the same time, the throttle valves in the carburetor should open completely (seen through the carburetor diffusers)
And the compensation spring must not be fully compressed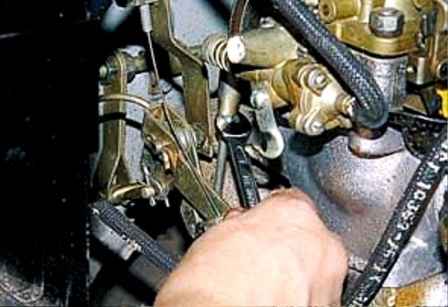 If the dampers do not open completely, use an 8 wrench to unscrew the lock nut of the thrust tip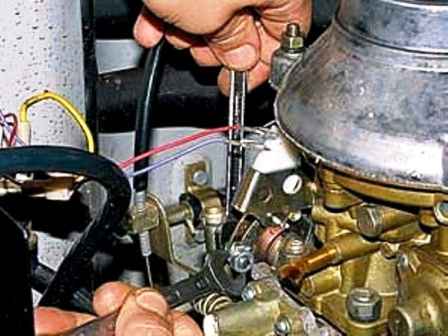 Using a 10 wrench, unscrew the nut that secures the rod to the sector, holding the hinge of the rod end with an 8 wrench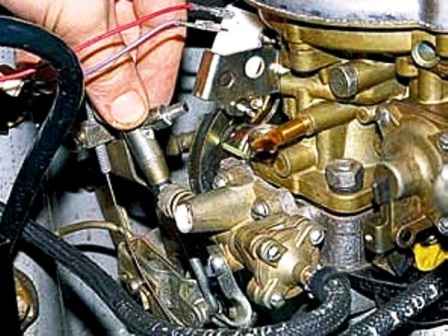 And disconnect the rod from the sector
Unscrew the rod end two or three turns.
We fix the rod to the sector and again check the operation of the throttle actuator, if necessary, repeat the adjustment.
By changing the position of the tip on the thread of the rod, we ensure that the dampers open completely, but at the same time the compensation spring is not compressed to the stop.
Then tighten the locknut and install the air filter cover.
When the "gas" handle is depressed, the throttle valves must be closed.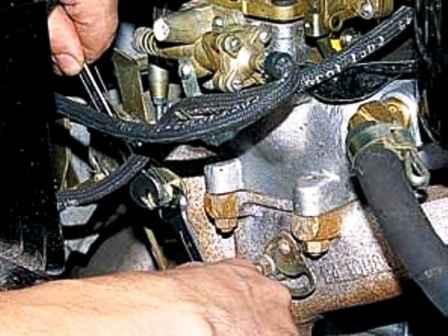 If this is not the case, with two keys by 10 we loosen the fastening of the thrust of the manual throttle actuator on the intermediate lever coupling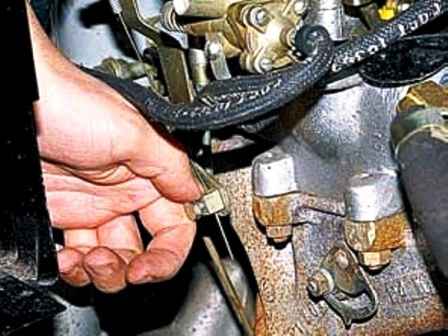 By moving the lever, we close the dampers and tighten the rod fastening bolt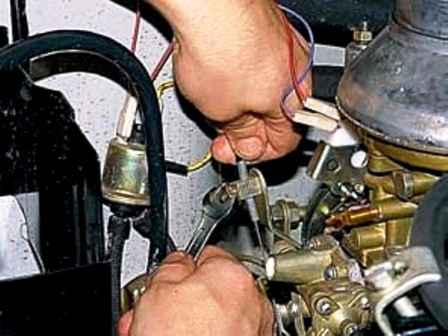 If the length of the rod is not enough, i.e., the coupling is already fixed at its end, with a key of 10 we loosen the bolt securing the rod shell
Moving the rod together with the shell, close the shutters and fix the shell with a bolt