We remove the elements of the oil system for replacement, as well as for repair
We prepare the car for the task and install it on a viewing ditch or lift
Removing and installing sensors of the lubrication system
Remove the front engine mudguard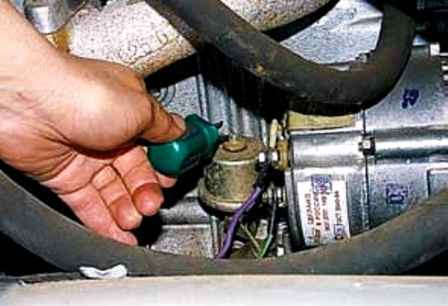 To remove the oil pressure gauge sensor, use a screwdriver to unscrew the screw securing the sensor wire tip
On the UMP engine, the sensor is located under the generator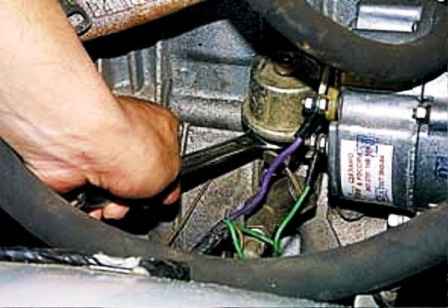 Using a 17 key, unscrew the sensor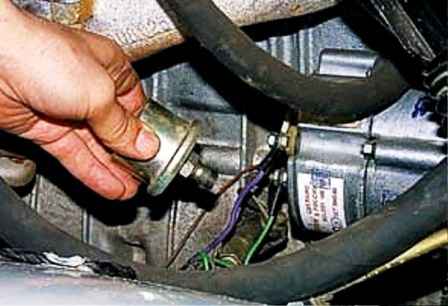 Remove the sensor
We put a new sensor and connect the wire end to it
Removing the emergency oil pressure warning light sensor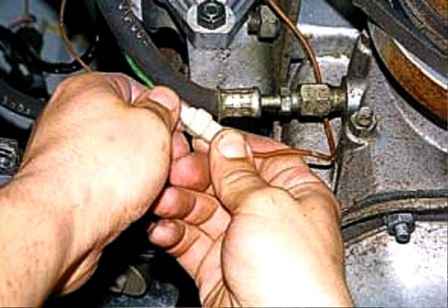 Disconnect the sensor wire block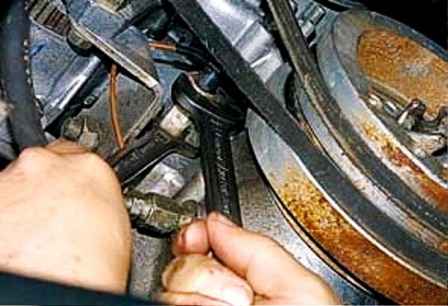 Unscrew the sensor with a key of 22, holding the fitting with a key of 19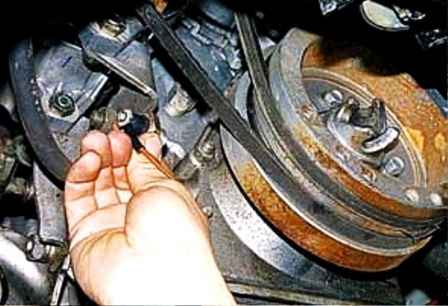 Remove the sensor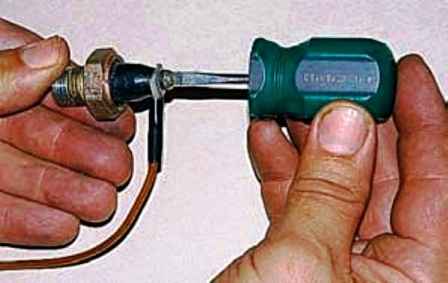 Unscrew the screw that secures the wire end to the sensor and remove the wire
When installing the sensor, apply sealant to its threaded part
Oil cooler valve replacement
Disconnect the oil cooler hose as described in the article "oil cooler removal"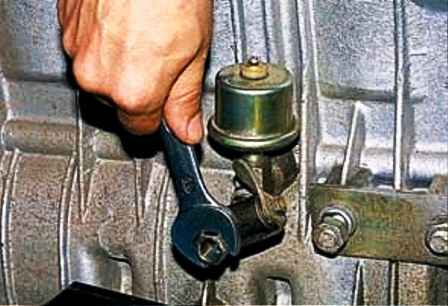 Unscrew the faucet with a key for 19 (the generator is removed in the picture)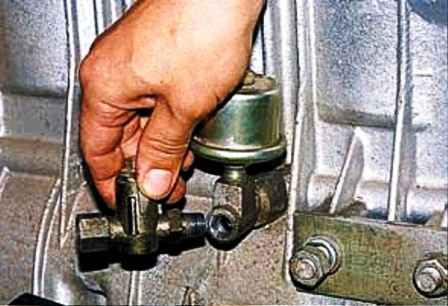 Remove the oil cooler tap
Install the faucet in reverse order.
Before installation, we apply sealant to the threaded part of the tap.
Removing and installing oil pump drive
Remove the ignition distribution sensor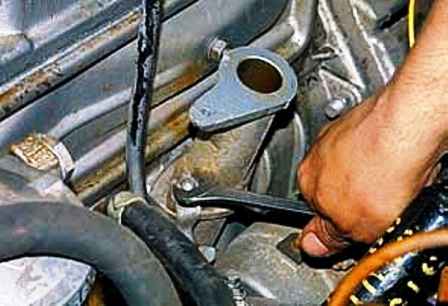 Using a 13 wrench, unscrew the two nuts securing the drive housing to the cylinder block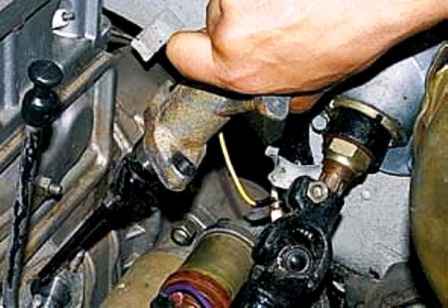 Remove the drive from the cylinder block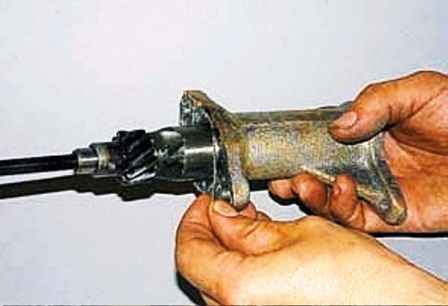 The drive is sealed with a gasket. We replace the gasket before installation
Installation
Set the TDC in the first cylinder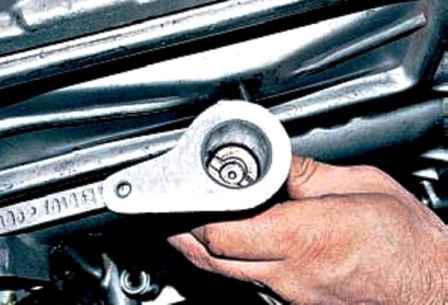 Turn the drive shaft 45°, as shown in the picture, and install the drive into the cylinder block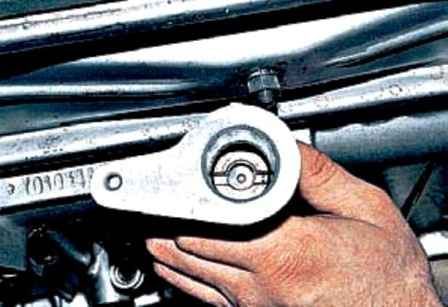 The roller will return to its original position, its slot will become parallel to the longitudinal axis of the engine and will be shifted outward relative to the center of the roller.
To check the correct connection of the oil pump shaft with the drive shaft, turn the crankshaft with the starter.
There should be no extraneous knocking.
Install the distribution sensor and adjust the ignition
Removing and installing oil pan
Remove engine mudguards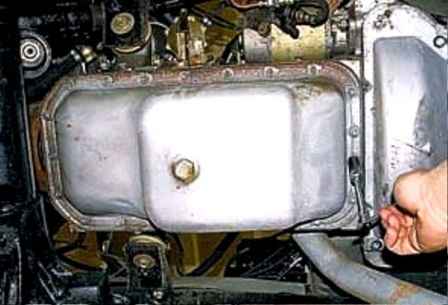 Using a 13 head, unscrew the twenty-one nuts securing the pallet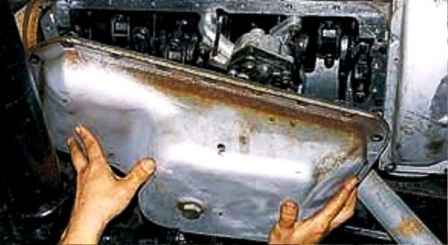 Removing the pallet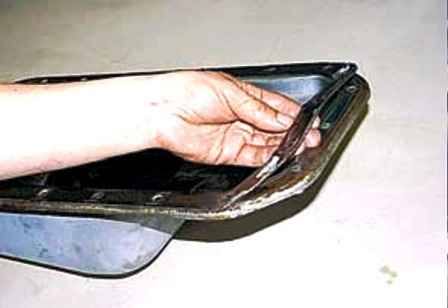 Remove the gasket from the pallet
Install the pallet in reverse order. We apply sealant on both sides of the gasket.
Removing and disassembling the oil pump
Remove the oil pan as described above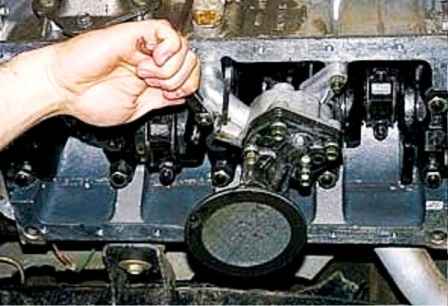 With a 13 head, unscrew the two pump mounting nuts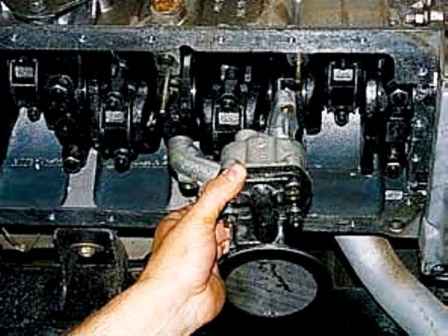 Remove the oil pump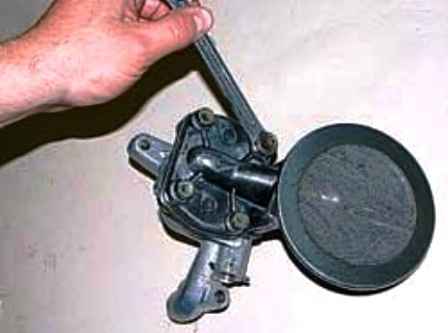 We unscrew the four bolts securing the oil intake with a 12 wrench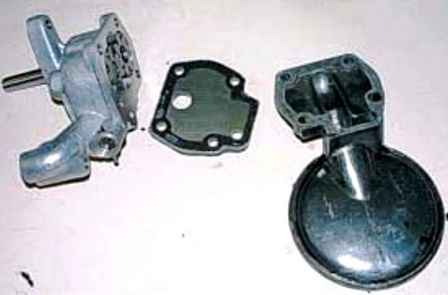 Remove the oil pickup and pump cover.
A gasket is installed between the cover and the oil pickup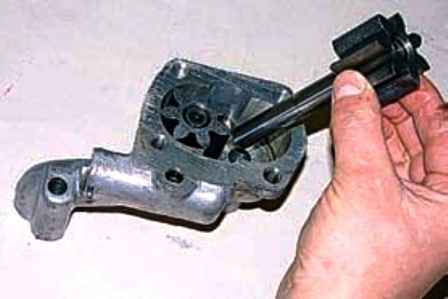 Removing the drive gear
Take out the driven gear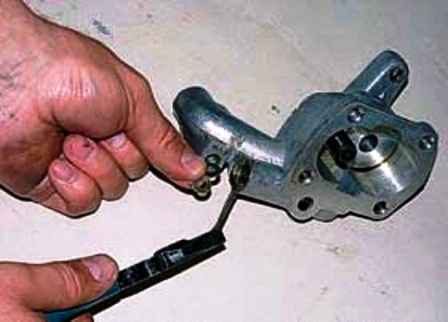 Using pliers, remove the cotter pin and remove the shims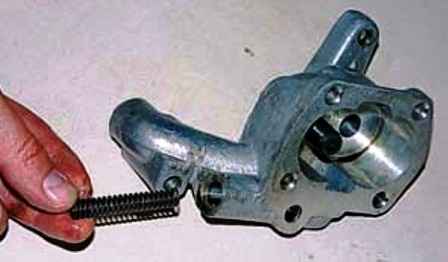 Retrieve the spring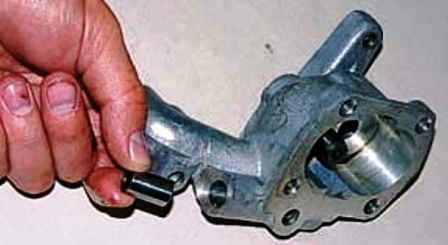 Remove the pressure reducing valve plunger
After that, we wash all the details and inspect for defects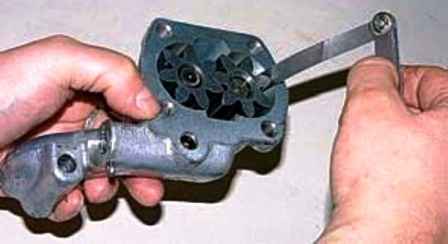 Using a feeler gauge, we measure the gap between the gear teeth and the housing
The gap should be no more than 0.2 mm
Assemble the pump in reverse order. Lubricate the internal parts with engine oil.
Install the pump in reverse order.