Manual transmission vehicles are equipped with a single plate diaphragm clutch
Pressure plate in a stamped steel casing, attached with six bolts to the engine flywheel
The driven disc is mounted on the splines of the input shaft of the gearbox and is clamped by a diaphragm spring between the flywheel and the pressure plate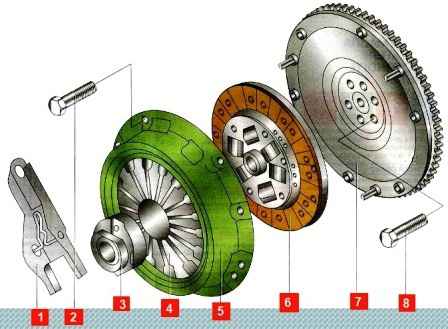 The clutch release bearing is mounted on a guide sleeve pressed into the clutch housing and moves along the sleeve with a fork, which in turn drives the clutch release hydraulic slave cylinder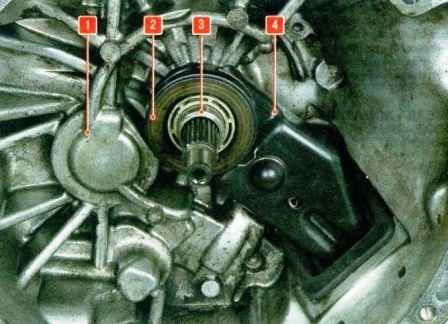 The hydraulic clutch release actuator consists of a master cylinder installed in the engine compartment, a working cylinder combined with a clutch release bearing, a pipeline including a tube and a hose, a clutch pedal, the bracket of which is attached with nuts to the front end shield
The pedal returns to its original position by a spring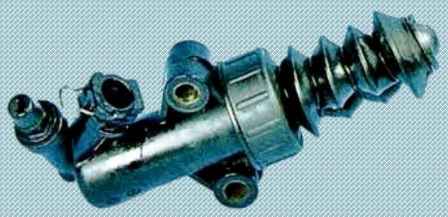 The slave cylinder on vehicles with a five-speed gearbox is located on the clutch housing, and on vehicles with a six-speed gearbox it is located inside the clutch housing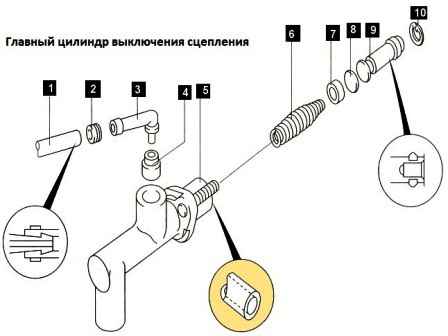 The master cylinder is connected by a hose to a reservoir mounted on the brake master cylinder (the reservoir is common to both master cylinders)
The hydraulic clutch release uses brake fluid
Clutch release actuator adjustable
In order for the clutch to serve for a long time and without fail, do not constantly keep your foot on the clutch pedal.
This bad habit is often acquired while learning to drive in driving schools for fear of not having time to disengage the clutch while the car is stopped.
In addition to the rapid fatigue of the foot, which is all the time above the pedal, the clutch is at least a little, but squeezed out, while the driven disk slips and wears out.
In addition, despite the fact that the release bearing is designed to operate in constant rotation mode, even if the pedal is pressed a little, it is under increased load and its life is reduced.
For the same reason, we do not recommend keeping the clutch off for a long time (for example, in traffic jams).
If you don't have to move right away, it's best to put the transmission in neutral and release the pedal.
Checking clutch pedal travel
Clutch pedal travel is checked to assess the condition of the clutch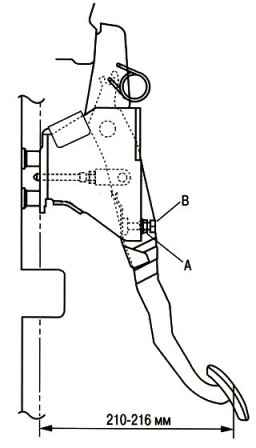 We measure the height of the clutch pedal, it should be 210-216 mm
If the measured state does not correspond to the nominal value, we adjust it
To adjust, loosen the locknut (A) and, by rotating the bolt (B), we achieve the desired value
To determine the free play of the clutch pedal, we measure the distance from the initial position of the pedal to the position in which an increase in resistance is felt when pressing the pedal with your hand
Nominal clutch pedal play 1-3 mm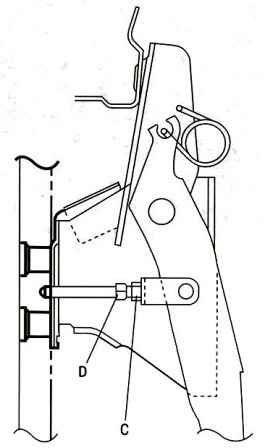 If the free play differs from the nominal value, adjust the length of the pusher of the clutch master cylinder
To do this, we loosen the locknut (C) and, by rotating the pusher (D) by the flat, adjust the pedal free play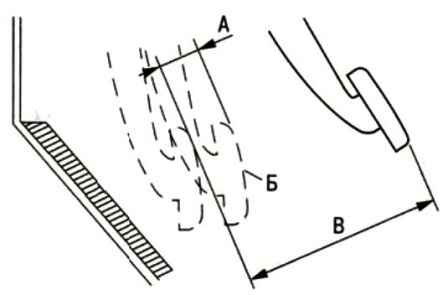 Check the pedal travel (B) until the clutch is engaged, it should be 20 mm, the full pedal travel (C) should be 140 mm
We measure the distance (A) (from the position of the clutch pedal at the moment the clutch is engaged to the position of the pedal in the fully depressed position)
If the pedal travel before engaging the clutch is less or greater than the specified value, check the following:
-clutch pedal free travel
If necessary, adjust it;
- full stroke of the pedal. If the pedal stroke is less, you need to adjust it and check the condition of the clutch drive
- the presence of air in the hydraulic clutch. If necessary, you need to pump the hydraulic drive
Possible clutch failures and solutions
Incomplete engagement of the clutch (clutch leads)
- the full travel of the clutch pedal is reduced
Adjust the clutch release actuator
- warping of the driven disk (end runout more than 0.5 mm)
Straighten or replace driven disc
- irregularities on the surface of the friction linings of the driven disk
Replace driven disc assembly
- loosening of the rivets or breakage of the friction linings of the driven disk
Replace pads, check disc end runout
- jamming of the hub of the driven disk on the splines of the input shaft of the gearbox
Clean the splines, coat with LSC-15 grease. If jamming is caused by crushed or worn splines, replace the input shaft or driven disc
- air in the hydraulic drive system
Bleed the system
- fluid leakage from the clutch master or slave cylinder
Replace clutch master or slave cylinder
- loosening the rivets of the pressure spring
Replace clutch cover with pressure plate assembly
- skewed or warped pressure plate
Replace clutch discs
Increased noise when disengaging the clutch
- wear, damage or leakage of grease from the clutch release bearing
Replace bearing
Increased noise when engaging the clutch
- breakage of the plates connecting the pressure plate to the casing
Replace clutch cover with pressure plate assembly
Incomplete engagement of the clutch (clutch slips)
- increased wear or burning of the friction linings of the driven disk
Replace driven disc
- oiling the driven disk, flywheel and pressure disk surfaces
Remove oil and clean parts with mineral spirits
- damage or jamming of the clutch release drive
Remove the cause of the jam
Clutch jerks
- jamming of the hub of the driven disk on the splines of the input shaft
Clean the splines and lubricate with LSTs-15 grease
- breakage or decrease in the elasticity of the driven disk damper springs
Replace driven disc
- oiling the friction linings of the driven disk, flywheel and pressure disk surfaces
Remove oil and clean parts with mineral spirits
- jamming in the clutch release mechanism
Replace warped parts. Eliminate causes of jamming
- increased wear of the friction linings of the driven disk
Replace the overlays with new ones
- loosening the rivets of the friction linings of the driven disk
Replace faulty rivets, and replace linings if necessary