Diesel model D-245.7EZ is installed on buses PAZ-32053-07. Diesel model D-245.9EZ is installed on buses PAZ-4234 and PAZ-32053-07
The general arrangement of the engine is shown in Fig.1.
The Common Rail fuel system with electronic injection control is used on diesels, which provides environmental indicators corresponding to the Euro-3 level by optimizing the workflow.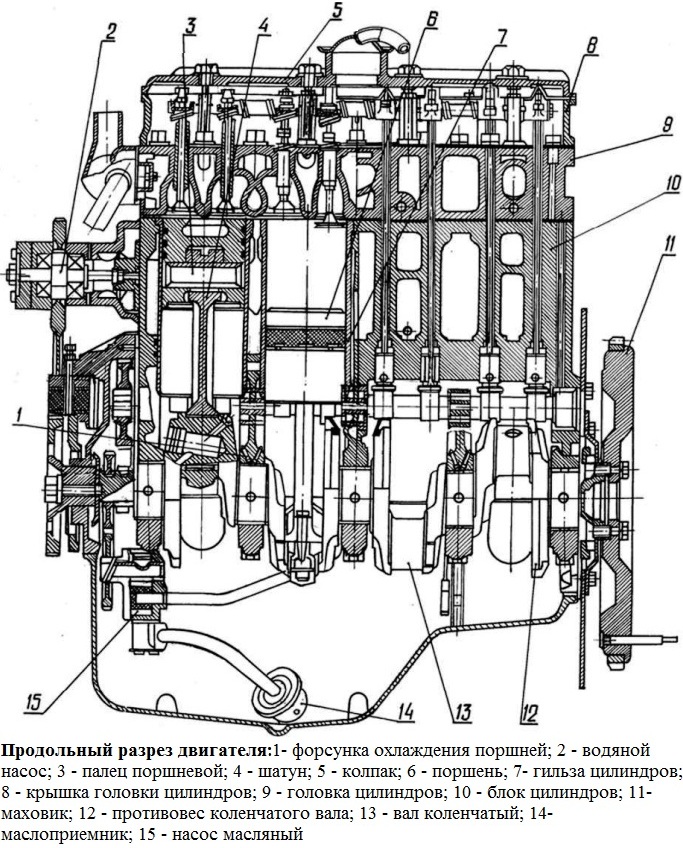 The engine consists of: a cylinder block with suspension; crank and valve timing mechanisms; lubrication, power and cooling systems; boost, start-up devices, drives of electrical equipment and aggregates.
The crank mechanism consists of: crankshaft, pistons with piston rings and fingers, connecting rods, main and connecting rod bearings, flywheel.
The crankshaft is steel, has five main and four connecting rod necks. The front and rear crankshaft is sealed with cuffs.
The piston is made of aluminum alloy.
A combustion chamber is made in the bottom of the piston. In the upper part, the piston has three grooves - compression rings are installed in the first two, and an oil ring is installed in the third.
An insert made of special cast iron is filled under the groove of the upper compression ring.
Piston rings. The upper compression ring is made of high-strength cast iron, in cross section has the shape of an isosceles trapezoid, the second
the compression ring is conical. On the end surface of the lock, compression rings are marked "Top" ("TOP"). Oil removal ring
box type with a spring expander.
Connecting rod - steel. To lubricate the piston pin, there are holes in the upper connecting rod head and sleeve.
The distribution mechanism consists of a camshaft, intake and exhaust valves, as well as parts of their installation and drive: pushrods, rods, rocker arms, adjusting screws with nuts, plates with crackers, springs, racks and the axis of rocker arms.
The camshaft is driven from the crankshaft via distribution gears
Technical characteristics of diesel
Engine model - D-245.7EZ or D-245.9EZ
The type is Diesel, four-stroke, turbocharged and supercharged air cooling.
The method of mixing is Direct fuel injection
Number and arrangement of cylinders 4, in-line, vertical
Cylinder capacity, l: 4.75
The order of operation of the cylinders: 1-3-4-2
The direction of rotation of the crankshaft is right (clockwise)
Diameter of cylinders/ piston stroke, mm:
D-245.7EZ - 110
D-245.9EZ - 125
Compression ratio 17
Rated power, net, kW:
D-245.7EZ - 85.0
D-245.9EZ - 95.0
Rated speed, min-1: 2400
Maximum torque, net, Nm:
D-245.7EZ - 422
D-245.9EZ - 456
Rotation speed at maximum torque, min-1:
D-245.7EZ - 1000... 1500
D-245.9EZ - 1500...1600
Minimum idle speed, min-1: 750...800
Maximum idle speed, min-1, no more than 2650
Ventilation system - Open
Lubrication system - Combined: under pressure from the oil pump and spraying
Cooling in the lubrication system - Liquid-oil heat exchanger
Oil filter - Full-flow, non-removable, mod. FM 009-1012005 or M5101
High pressure fuel pump - CP3.3 (BOSCH, Germany)
Electronic diesel control unit - EDC7UC31 (BOSCH, Germany)
Nozzle - CRIN2 (BOSCH, Germany)
Coarse fuel filter - Preline PL 270 (MANN-HUMMEL GMBH, Germany)
Fuel fine filter - Mann & Hummel WDK962/12 or WDK962/14 (Germany)
Air filter - Air cleaner with paper filter elements
Boost system - With adjustable boost pressure and air-to-air charge air cooler
Turbocharger - C14 (Turbo company) C15 (Turbo company) or S200G (Schwitzer company, Germany)
Diesel cooling system - Liquid, closed type, with forced circulation of liquid, thermostat and expansion tank
Means of facilitating the start of the engine - Glow plugs and liquid heater