The starter is a four-pole, four-brush DC motor with permanent magnet excitation, combined with a planetary gear and an electromagnetic two-winding traction relay. The covers and the stator housing are tightened with two bolts
Permanent magnets are fixed in the stator housing.
The rotation from the armature shaft of the electric motor is transmitted to the drive shaft through the planetary gearbox.
A freewheel roller clutch is installed on the drive shaft.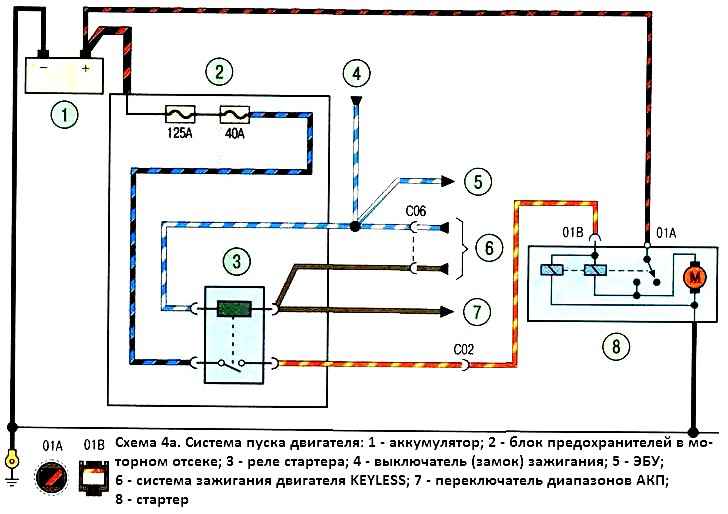 When the key in the ignition switch (lock) is turned to the "START" position, battery voltage is applied to the retracting and holding windings of the traction relay, as a result, the drive lever moves and the starter gear engages with the engine flywheel ring gear.
At the same time, the armature of the traction relay closes the power contacts (at this moment, the retractor winding is turned off), the starter motor is energized from the battery
The starter anchor rotates the engine crankshaft through the planetary gear.
After starting the engine, when the speed of the gear exceeds the speed of the starter shaft, the freewheel will unlock and begin to slip, thereby protecting the starter from high speed and damage.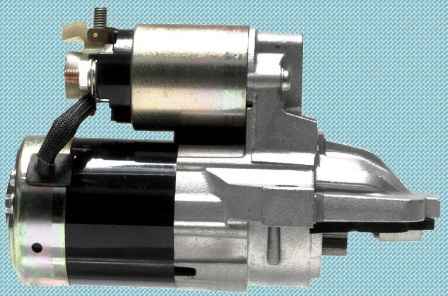 Possible starter malfunctions and solutions
When the starter is turned on, the armature does not rotate, the traction relay does not work
- defective or discharged battery
Charge or replace the battery
- the battery terminals are heavily oxidized and the tips are loosely tightened
Clean the terminals and wire lugs and apply Vaseline
- interturn short circuit in the retracting winding of the traction relay, its short circuit to ground or open circuit
Replace the traction relay
- break in the power circuit of the starter traction relay
Check the wires and their connections in the circuit between plugs "50" of the starter and the ignition switch
- the contact part of the ignition switch is faulty
Replace the contact part of the ignition switch
- traction relay armature sticking
Remove the traction relay, check the ease of movement of the anchor
- burning of the collector, hanging brushes or their wear
Clean the commutator, replace the brushes
When the starter is turned on, the armature does not rotate or rotates too slowly, the traction relay is activated
- defective or discharged battery
Charge or replace the battery
- the battery terminals are heavily oxidized and the tips are loosely tightened
Clean the terminals and wire lugs and apply Vaseline
- loosened fastening of the ends of the wire connecting the power unit to the body
Tighten the wire lugs
- the contact bolts of the traction relay are oxidized or the nuts for fastening the wire ends on the contact bolts are loose
Clean the contact bolts, tighten the wire fastening nuts
- burning of the collector, hanging brushes or their wear
Replace commutator, replace brushes
- open or short circuit in the rotor winding
Replace rotor
When the starter is turned on, the traction relay trips and turns off repeatedly
- low battery
Charge the battery
- open or short circuit in the holding winding of the traction relay
Replace the traction relay
- a significant voltage drop in the power supply circuit of the traction relay due to strong oxidation of the wire tips
Check the wires and their connections in the circuit from the battery to the "50" plug of the starter
When the starter is turned on, the armature rotates, the flywheel does not rotate
- freewheel slip
Replace clutch
- the drive gear does not engage with the flywheel ring gear (noise is heard, flywheel teeth wear has appeared)
Replace drive or flywheel
Starter noise during armature rotation
- excessive wear of bearings (armature shaft bushings)
Replace bearings or starter covers
- the starter mount is loose or its cover on the drive side is broken
Tighten the mounting nuts or replace the starter cover on the drive side
- gear teeth damaged drive or flywheel ring
Replace drive or flywheel
Gear does not disengage from flywheel
- jamming of the coupling on the splines of the drive shaft
Clean the splines and coat them with engine oil
- traction relay armature sticking
Replace the traction relay or fix the jam
Removing and installing the starter
The starter is mounted on the cylinder block at the rear of the power unit
We prepare the car and install it on a lift or an inspection ditch
Remove the crankcase protection
Disconnect the negative battery terminal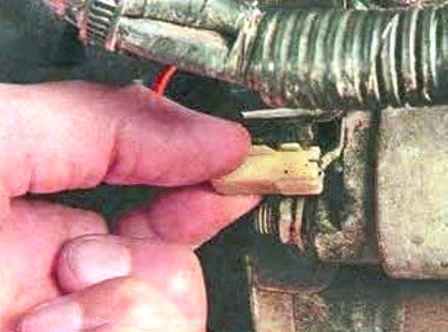 Disconnect the control wire block of the traction relay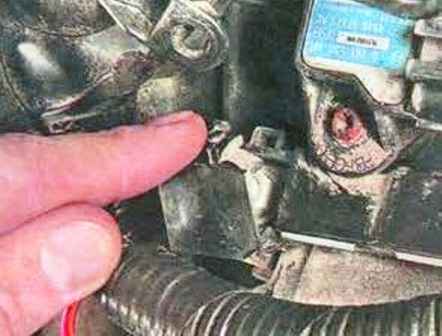 Remove the plastic cap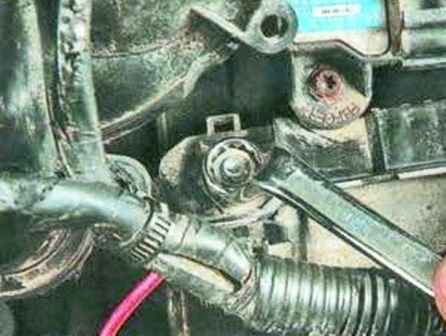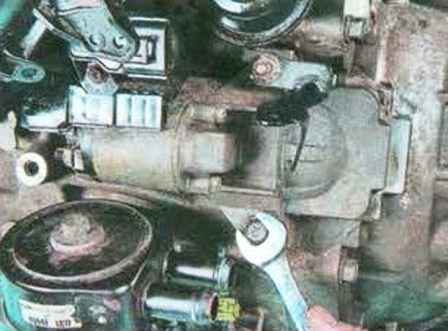 Unscrew the nut securing the power wire and remove the wire from the contact bolt of the traction relay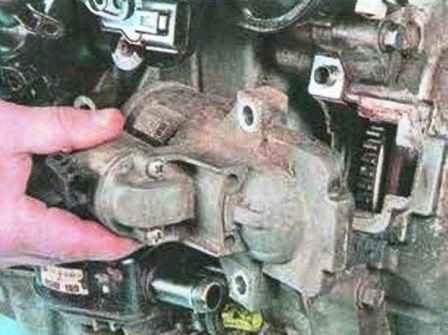 Loosen the starter mounting bolts
Remove the starter
Remove the starter from the cylinder block and lower it down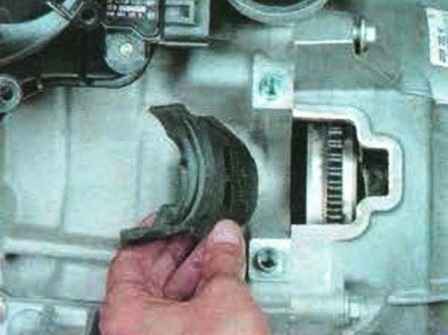 Remove the seal
Install the starter and all parts in reverse order