In the article, we will look at how to replace candles and adjust the ignition timing
Replacing spark plugs
Using a compressor, we blow compressed air into the candle nests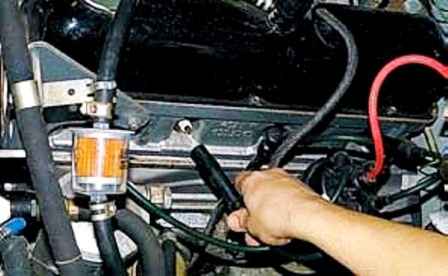 Remove the tip of the high-voltage wire from the candle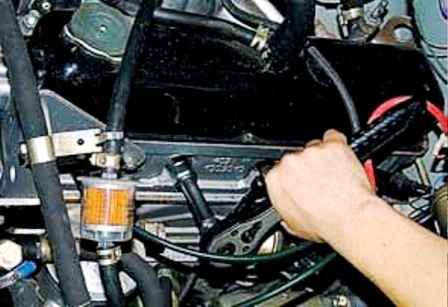 Unscrew the candle with a high head at 21
For a properly working spark plug, the color of the center electrode insulator skirt should be gray or light brown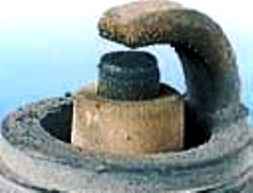 Clean the spark plug and check the gap between the spark plug electrodes with a round wire gauge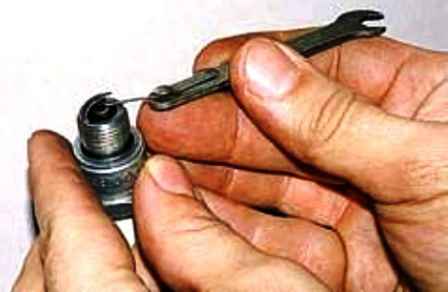 Gently bending the side electrode, we achieve a gap of 0.8-1.0 mm
We make sure that the sealing washer of the candle is present
We screw the candle into the head of the block, first by hand, then tighten it with a key. Tightening torque of the candle 3-4 kgf.m
We put on the tip of the high-voltage wire
We replace the rest of the candles in the same way
Ignition timing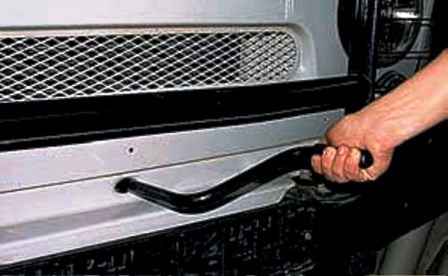 Set the crankshaft with the handle to the position corresponding to the ignition timing of 5°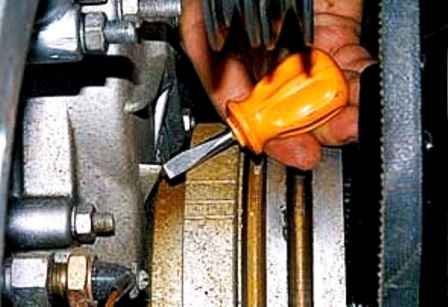 Combine the middle mark on the crankshaft pulley with the tide on the block cover at the end of the compression stroke in the first cylinder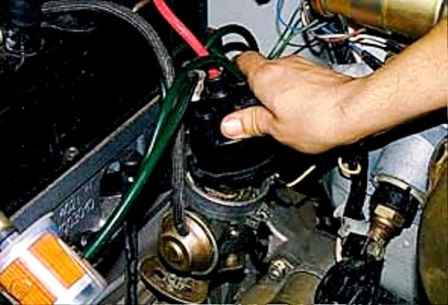 The compression stroke is determined by removing the ignition distributor cap
The runner should be against the internal contact of the cover, connected by a wire to the spark plug of the first cylinder
Or turn the candle of the first cylinder inside out. We close the candle hole with a paper stopper and rotate the crankshaft
The moment the plug exits corresponds to the start of the compression stroke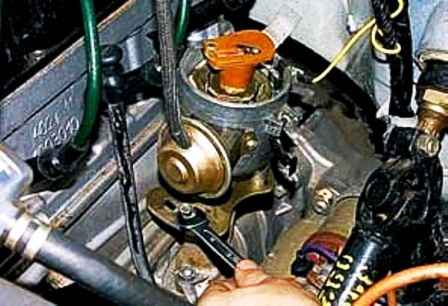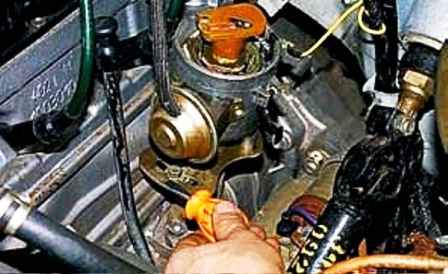 Using a 10 wrench, loosen the octane corrector bolt and set its scale to zero division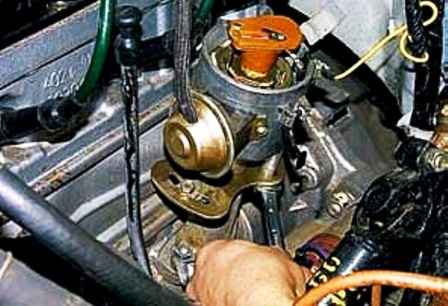 Using a 10 key, loosen the octane corrector mounting bolt and, turning the distributor sensor housing, align the marks (red risk on the rotor and arrow on the stator).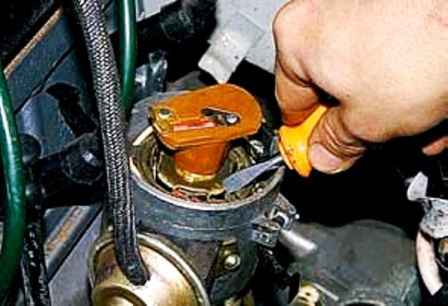 While holding the sensor in this position, tighten the bolt.
Make sure the slider is against the contact of the first cylinder cover and check that the high voltage wires of the remaining cylinders are connected correctly - counting counterclockwise from the first cylinder ndra is in order 1–2–4–3.
We recommend that you additionally check the correct ignition timing while driving.
To do this, moving in fourth gear at a constant speed of 50-60 km / h, sharply press the "gas" pedal.
If, at the same time, detonation (it sounds like a knock of valves) appears briefly - for 1-3 seconds, then the ignition moment has been chosen correctly.
Continued detonation indicates excessive ignition timing.
We reduce it by one division with an octane corrector.
The absence of detonation requires an increase in the ignition timing, after which the test must be repeated.