The car can be equipped with one of three types of generator:
G250P2 - with a brush assembly, a built-in rectifier and an external voltage regulator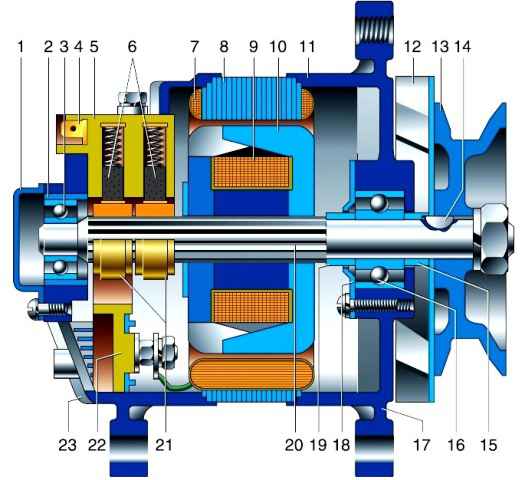 665.3701-01 (and other modifications) or 161.3771 - with brush assembly, built-in rectifier and voltage regulator
G700A.30 or 957.3701-10 - brushless, with built-in rectifier and voltage regulator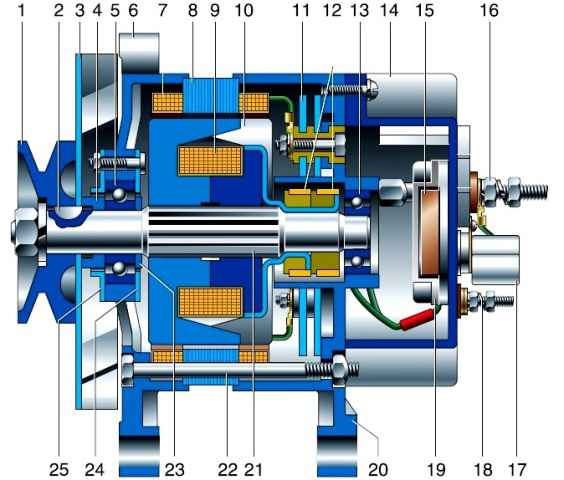 The generator is an electric, three-phase, synchronous AC machine.
The generator rotor is driven by a V-belt from the crankshaft pulley.
The generator is pivotally mounted on the engine block and has a tensioner for adjusting the tension of the drive belt.
The stator and generator covers are held together by four bolts and nuts.
The rotor shaft rotates in two closed ball bearings installed in the covers.
The bearings are lubricated for the entire life of the generator.
The rectifier unit consists of six diodes pressed into two aluminum plates mounted on the rear cover of the generator.
Built-in voltage regulator - integral, not repairable. It is fixed inside the generator under the casing
Cars with a G250P2 generator are equipped with an external voltage regulator 2702.3702, which has a switch that allows you to change the regulated voltage
The switch is set to the middle position at the factory.
The voltage from the regulator is supplied to the rotor winding through two brushes and copper slip rings.
The generator windings and the rectifier unit are cooled by air through the windows in the covers.
The air flow is generated by a centrifugal fan mounted on the rotor shaft.
Checking the alternator on the car
Turn on the ignition (without starting the engine). The voltmeter will then show the voltage at the battery terminals.
We start the engine - the voltage should increase.
If this is not the case, the voltage regulator may be faulty, the generator windings may be damaged (open or short circuit), the contact rings may be oxidized or oily, the brushes may be worn or stuck.
To make sure the voltage regulator is working, turn on powerful current consumers (headlights, heater fan, alarm and windshield wiper).
When changing the engine speed from medium to high, with a working regulator, the voltage should remain within 13.5–14.8 V.
Removing the generator. On the example of the generator 6631.3701
Disconnecting the battery
We turn off the bolt of the upper fastening of the generator and remove the drive belts of the units
We write down or remember the order of connecting wires to the generator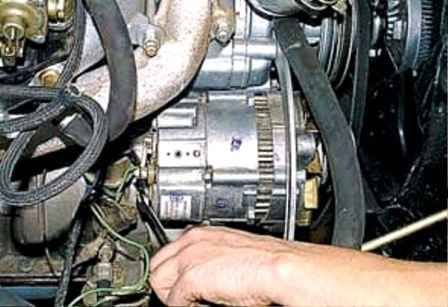 We unscrew the nut of the wire tip to the "B" terminal with a 10 wrench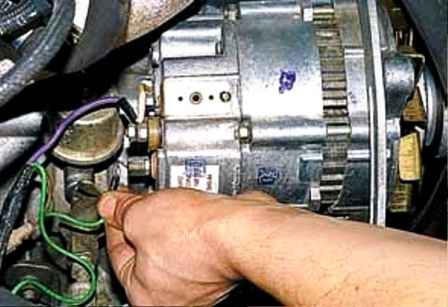 Remove the wire tip from the "B" pin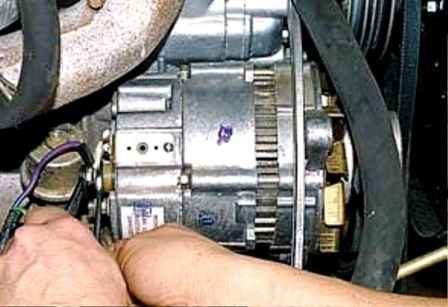 We unscrew the nut of the wire tip with a 10 key, holding the "+" terminal nut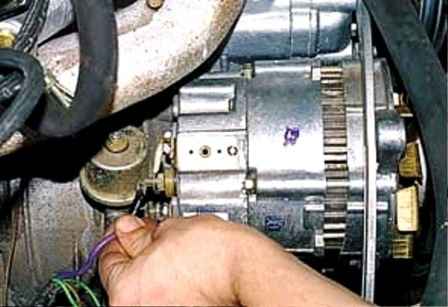 Remove the tip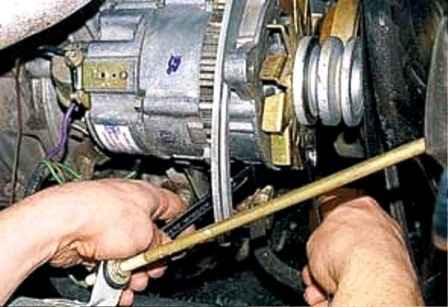 We unscrew the nut of the front bolt of the lower mounting of the generator with a 17 key, holding the bolt with a 14 key
We also unscrew the nut of the other bolt of the lower mounting of the generator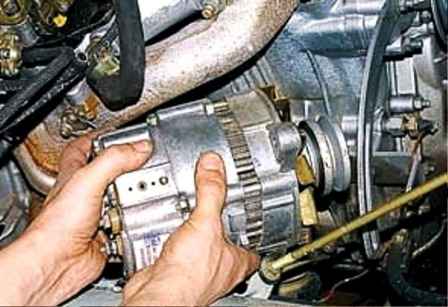 Remove the bolts and remove the generator
Install the generator in reverse order
Possible malfunctions of the generator and methods of elimination
Battery not charging
- Alternator drive belt slip
Adjust belt tension
- Wear or freezing of the generator brushes
Clean the brush holder from dust, check the force of the brush springs. Replace damaged or worn brushes
- Burning slip rings
Clean or, if necessary, grind slip rings
- Break in the power supply circuit of the excitation winding
Fix open circuit
- Rotor touching the stator poles
Check the bearings and their seats. Replace worn and damaged parts
- Faulty voltage regulator
Replace voltage regulator
- Breakage of wires from the terminals "+" or "V" (W)
Troubleshoot
- Breakage or short circuit to ground of the excitation winding
Replace Rotor
- Short circuit or break in one or more diodes of the rectifier unit
Replace defective diodes or rectifier unit
- Open or interturn short circuit in the stator winding
Replace the stator
Battery recharge
- Faulty voltage regulator
Replace voltage regulator
- Large voltage drop in the power supply circuit of the integrated voltage regulator
Check the reliability of the contacts in the power supply circuit of the regulator (circuit to the terminal "V" (Sh) of the generator)
There is no full output of the generator (despite the dead battery)
- Alternator drive belt slip
Adjust belt tension
- Faulty voltage regulator
Replace voltage regulator
- Interturn short circuit or open circuit in one of the phases of the stator winding
Replace a stator with a defective winding
- Damage to one of the diodes of the rectifier unit
Replace defective diodes or rectifier unit
Quick wear of brushes and slip rings
- increased runout of contact rings
Turn and grind slip rings
- oil getting on slip rings
Wipe slip rings and brushes with a cloth soaked in gasoline
Increased generator noise
- Alternator pulley nut loose
Tighten the nut
- Bearing wear
Replace bearings
- Rotor touching the stator poles
Replace worn and damaged parts
- Development in the cover of the seat for the bearing
Replace alternator cover or alternator
Accelerated wear of the alternator drive belt
- Increased pulley or rotor imbalance
Check and correct the imbalance if it exceeds 10 g•cm
- Damage to the crankshaft pulley or generator
Replace the damaged pulley (you)
- Offset of the alternator pulley along the axis relative to the crankshaft pulley
Adjust the position of the alternator bracket on the engine or replace the bracket
- Excessive belt tension
Adjust tension